[dp_demo_ad_fullx90]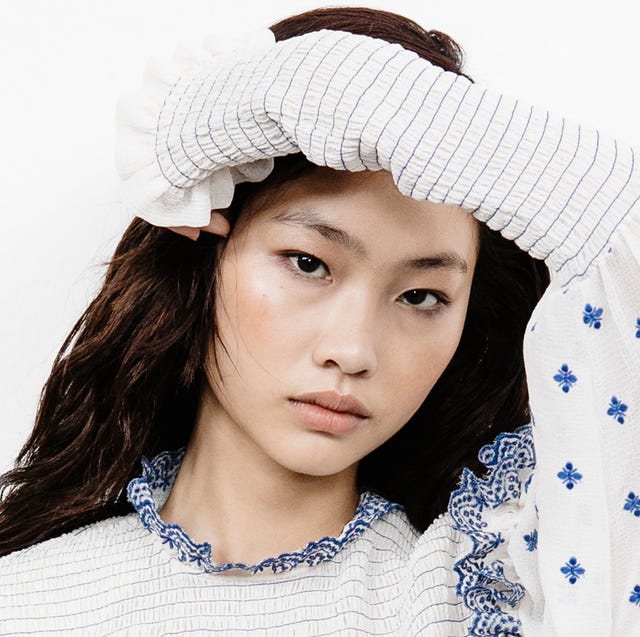 Rosdiana CiaravoloGetty Images
Since its Western debut several years ago, Korean beauty has undoubtedly revolutionized the beauty industry. What started off as a trend has become a major game-changer for the business, spawning countless K-beauty companies and even prompting non-Korean brands to jump on the bandwagon and attempt their own takes on Seoul-inspired skincare. K-beauty's popularity shows no sign of stopping, as evidenced by the $13 billion it's estimated to be worth.
One of the first products that helped bring K-beauty to the top of everyone's Sephora shopping lists was sheet masks. Many of them came infused with unique, innovative, and, we'll admit, not-so-vegan-friendly ingredients such as snail mucin, bee venom, and donkey milk. Chances are, whether you were a beauty veteran or novice, you hadn't heard of those things being used in skincare products before.
The affordability of K-beauty sheet masks was another factor in their success. For as low as one dollar, you could get glowy skin in a matter of minutes while simultaneously scaring your friends with an American Psycho-esque selfie. There's also the accessibility—you can pick up a K-beauty face mask practically anywhere, including your local CVS or as a last-minute addition to your Amazon order.
Whether you need to target a specific skin concern like acne or dehydration, or just want to bring some life back into your complexion, there is a Korean beauty face mask for every issue and situation. Ahead, 11 must-have Korean beauty face masks that will help bring your skin to a whole new level.
Advertisement – Continue Reading Below
When You're Going on a Trip Overseas
Dry Mask Sheet Pack
CLE Cosmetics
neimanmarcus.com
$15.00
A long flight out of the country with hours spent sitting inside with that dry, recycled cabin air can suck the moisture out of your skin. Add jet lag on top of that and you'll be lucky if you don't look like an extra from The Walking Dead. Pack a couple of these dry masks to reach for as soon as you get to your hotel, and don't forget the Lifting Mist! Spritz the mist on this mask before you apply it to your face in order to activate these medical grade cotton gauze masks that are infused with three, yes, three nourishing forms of collagen.
When You're Dealing With a Period-Related Breakout
Bamboo Face Sheet Mask
Rael is a brand that focuses on the skin issues we get due to our menstrual cycle. So, if you're annoyed at a period breakout, this sheet mask is key. It contains the anti-inflammatory ingredient tea tree oil to help with zits and clogged pores, as well as centella and chamomile to heal the skin.
When You Want to Weird Your Friend Out With Snail Goo
Snail Bee High Content Mask
Benton
sokoglam.com
$25.00
Let's face it: Some people just aren't as well-versed in skincare as you might be, which is a good opportunity to introduce them to the wonders of Korean beauty, or just freak them out when you tell them you're putting snail slime and bee venom on your face. Even better? You'll notice your skin will look supple and more radiant afterward.
When You're In Need of Some Post-Breakup Self Care
Daily Wonders Break Up With Your Ex-Skin Cell Mask
If you're going through a breakup, chances are your skin is in need of a little beauty boost, especially if you've been crying a lot. (Don't be afraid to let it all out!) This fittingly-named mask contains alpine willowherb which helps calm irritated skin while sugar maple extract will get you saying, "thank you, next" to any tired, old dead skin cells.
When You Want to Do Skincare While You Sleep
Watermelon + AHA Glow Sleeping Mask
Glow Recipe
sephora.com
$45.00
It may not be a sheet mask, but Glow Recipe's Watermelon Sleeping Mask has earned a reputation for being a must-have product in the K-beauty world. It contains hydrating hyaluronic acid, AHAs to help unearth a brighter, rejuvenized complexion, and watermelon extract that isn't just soothing, but makes your skin smell like a sweet dream.
When That Office A/C Is Wreaking Havoc on Your Skin
N.M.F. Intensive Hydrating Mask
Mediheal
amazon.com
$9.95
Office air conditioning can be a point of contention, but it's also a major risk to your skin. It can dry it out, which in turn can make it age faster or make it irritated and itchy. That's why a regular sheet mask regimen, especially using Mediheal's beloved N.M.F. Intensive Hydrating Mask, is a godsend.
When You've Been Up Too Late Getting Freaky
Glam Rock Abracadabra Mask
Too Cool for School
toocoolforschool.us
$6.00
Are you exhausted from a long night of, uh, fun? If you're trying to hide your lack of sleep from your co-workers, a good mask is important. The presence of acai berry boosts collagen production and black yeast extract will fight signs of aging. Oh, it's also lined with black lace so you can pretend you're Anastasia Steele in 50 Shades of Grey, if you're into that sort of thing.
When You've Got Acne Scars You Wanna Get Rid Of
Dermask Micro Jet Clearing Solution
Dr. Jart+
sephora.com
$9.00
K-beauty fans know that Dr. Jart is a legend in Korean skincare. The brand has so many tried-and-true products, especially when it comes to fighting inflammation and getting rid of hyperpigmentation. This mask will help combat redness and balance uneven skin, and with a triple-threat combination of salicylic acid, tea tree oil, and niacinamide, your acne scars will be kicked to the curb in no time.
When You Want to Practice Your Euphoria Makeup Skills
Glamour Base Sheet Mask
If you aren't familiar, When is a brand that comes in handy during any scenario—like when you need to prep your skin for makeup. Ingredients like the energizing adenosine can help create a smooth canvas while collagen and peptides will plump up your skin. This mask is also made from coconuts, so it's biodegradable and good for Mother Earth.
When You Want to Feel Like a Skincare Scientist
10-Seed Nourishing Modeling Mask
Primera
sephora.com
$22.00
Sometimes it's fun to be more involved with your skincare instead of just slapping on a sheet mask and calling it a day. The DIY-inclined will appreciate this Primera mask set, which requires a little bit of pouring and mixing. After the formula is applied to your face, it transforms into a fun, rubber-like sheet that reveals baby-smooth skin once it's removed.
When Your Face Feels Like the Whole World is Against It
Ultimate Nourishing Rice Overnight Spa Mask
COSRX
dermstore.com
$18.00
Another skincare-while-you-sleep product, this multi-purpose mask will combat a slew of issues (like acne, dullness, and dehydration) as it contains skin-regenerating rice extract and niacinamide, which can help decrease the appearance of large pores.
Advertisement – Continue Reading Below