[dp_demo_ad_fullx90]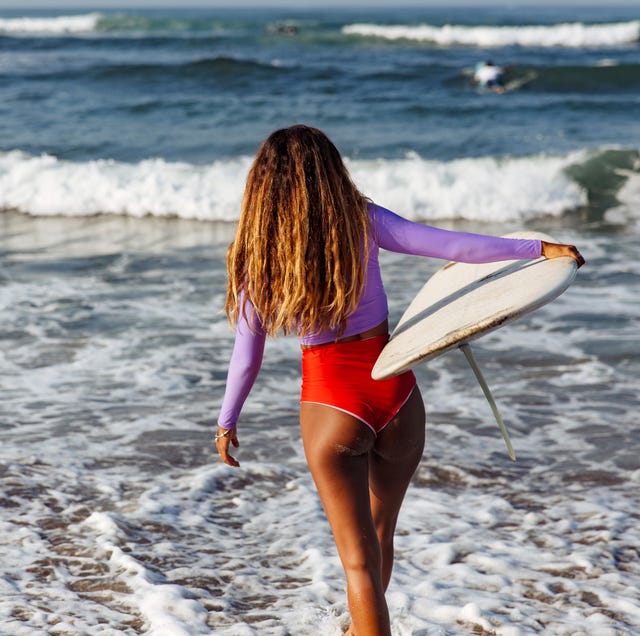 Nyimas Laula
It's time to invest in a natural sunscreen. Apart from saving the coral reefs, you could also be saving your skin. Dr. Melanie Palm, board-certified dermatologist and cosmetic surgeon from Art of Skin, explained that with chemical sunscreens, the product is essentially changing light into heat energy which can have negative effects on the skin. "Heat causes inflammation on the skin, which can cause deleterious effects on the skin and premature aging changes," explains Palm.
Needless to say, choosing the right sunscreen matters. Natural sunscreens, also called "physical sunscreens" by the FDA, consist of two types of mineral-based formulas: zinc oxide and titanium dioxide. These sunscreens work by reflecting the sun rather than using energy conversion like other chemical-based sunscreens.
Some of the best sunscreens out there now combine the best of natural sunscreen elements with the power of anti-inflammatory agents and/or anti-oxidants. Palm advises looking for active ingredients like zinc oxide and titanium dioxide on the labels to check. We've also taken the guesswork out of finding the perfect natural sunscreens for you, with these 14 dermatologist-approved picks.
Advertisement – Continue Reading Below
The Dermatologist Favorite
UV Elements Tinted Broad-Spectrum SPF 44
EltaMD
dermstore.com
$34.00
"This line is an absolute favorite amongst dermatologists, approaching almost cult-favorite status," Palm says. Along with being a tinted sunscreen, "the formulation features not only moisturizers (hyaluronic acid) to increase skin hydration but antioxidant protection (vitamin C) to protect from visible/infrared light exposure and free radical protection." Perfect for those with sensitive skin, "it is fragrance-free, paraben-free, noncomedogenic and gluten-free."
Best for Anti-Aging
Eryfotona Actinica Broad Spectrum SPF 50+
Isdin Actinic Care
isdin.com
$55.00
This Spanish brand of sunscreen is basically the Neutrogena of Cattelans. "This particular formation has a physical sun-blocking agent with zinc oxide along with antioxidant protection courtesy of vitamin E," says Palm. "What makes it truly unique amongst sunscreens is the DNA Repairsomes technology that contains enzymes that help to restore damaged skin cell DNA from UV sun exposure." Bonus: It reverses the signs of aging and has been shown to reverse precancerous skin lesions.
Best for Anti-Pollution
Sunforgettable Total Protection Face Shield SPF 50
Colorescience
dermstore.com
$65.00
"This unique formulation starts with broad spectrum UV protection with micronized zinc oxide, but contains antioxidants and proprietary compounds to ward off the deleterious effects of pollution and even infrared light, both of which can cause premature aging of the skin," explains Palm. Additionally, this formulation uniquely blends into all skin tones and is hydrating and water resistant.
Best for Everyday
Urban Environment Oil-Free UV Protector Broad Spectrum Face Sunscreen SPF 42
Shiseido
sephora.com
$35.00
Dr. David Colbert recommends this sunscreen for full protection. "When used in sunscreen, zinc oxide is like millions of tiny umbrellas protecting your skin from the sun's burning and tanning rays," says Colbert. Finally, an army of Mary Poppins at your fingertips.
Best for No White Cast
Chem-Free Active Defense SPF30
Colbert, whose clients include Emma Stone, Michelle Williams, and a bevy of Victoria's Secret models, is the founder and head dermatologist at New York Dermatology Group. With his practice, they launched their own line of skincare products, including their chemical-free SPF. It's "enriched with argan oil plus antioxidants and zinc oxide," he says. "It goes on smoothly with no white residue and mixes well with makeup, making it great for everyday use."
Best for Sensitive Skin
Sheer Zinc Sunscreen Face Lotion SPF 50
Neutrogena
target.com
$8.99
Colbert recommends the Neutrogena Sheer Zinc Dry Touch Sunscreen because the sun-repelling zinc oxide is micronized and goes on smoothly without making you look pasty. The product is also free of fragrance, parabens, dyes, and harsh chemicals so it's gentle on the most sensitive skins.
Best for Mid-Day Touchups
Sunforgettable Brush-On Sunscreen SPF 30
Colorescience
dermstore.com
$65.00
In the makeup-as-SPF world, ColoreScience is top of the line. "This paraben-free, fragrance-free, and gluten-free zinc-based sunscreen is endorsed by the Skin Cancer Foundation and features an easy brush-on, refillable applicator for easy and consistent application," Palm says. Bonuses include: being water-resistant, easy to carry, and "it makes sunscreen re-application after applying makeup earlier in the day a snap."
Best for Sweating
SPF 45 Sunscreen Face Stick
Headhunter Sunscreen
amazon.com
$13.98
For breaking a sweat, Colbert recommends this product popular among pro tennis players and swimmers because "it is truly water resistant." It also comes in a tinted formula.
Best for Swimming
Ultimate Sun Protection Lotion WetForce Broad Spectrum Sunscreen SPF 50+
Shiseido
sephora.com
$40.00
When it comes to department store picks, Shiseido is Palm's favorite. Beyond sun protection, this formula also hydrates and brightens the skin too.
Best for Preventing Hyperpigmentation
SPF 25 Organic Non-Nano Zinc Facestick Sunscreen
Surfscreen
amazon.com
"It was created by female surfer to halt hyperpigmentation," Colbert says. "Yeah Bah Sunscreen Lotion made with zinc oxide and coconut oil is both a great moisturizer and sunblock."
Best for No Mess Application
100% Mineral Sunscreen Stick Spf 45
Supergoop!
amazon.com
$24.00
Best for Blue Light Protection
Mineral Silk Crème SPF30 Oil-Free Unscented
A sunscreen that goes above and beyond. Not only does it prevent damage from UV rays, it also has the added benefit of protecting your precious skin from blue light aka the rays from your computer or phone.   
Best for Oily Skin
Clean Screen Mineral
Ren Clean Skincare
dermstore.com
$36.00
Tired of sunscreen leaving a shiny residue? The mattifying properties eliminate that white mess and leave your skin feeling like skin. 
Best for Beach Days
Mineral Sport Lotion SPF 50
Bare Republic
ulta.com
$14.99
This mineral-based sunscreen utilizes plant-based ingredients like kukui seed oil and algae extract to hydrate the skin and protect it from pollutants. Bonus: It's 8o minute plus water resistant. 
Advertisement – Continue Reading Below