[dp_demo_ad_fullx90]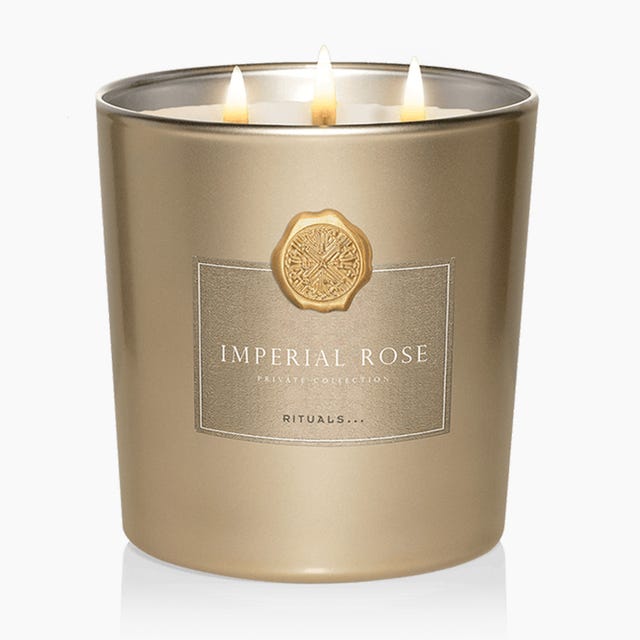 Courtesy
There are a lot of factors to consider when finding the best luxury candle for your humble abode. How long is its burn time? Is it a soy or beeswax candle? Do I want a lavender-based scent for calmness or a rose scent for ambiance? How much does it cost?
The term "self-care" gets thrown around a lot, but here at ELLE.com, we honestly believe lighting a luxurious smelling candle is key to a well-balanced life. The "luxury" label usually comes with a hefty price tag. Still, below, we present 15 of the best luxury candles to invest in that won't break the bank, from Diptyque and Le Labo's cult-favorite scents to a Brooklinen candle set that takes you from AM to PM.
Advertisement – Continue Reading Below
1
Alexandra Winbush
Sunday in Brooklyn
alexandrawinbush.com
$20.00
All your troubles of the day quickly dissolve the moment you light this lemongrass and basil-scented soy candle. It burns slowly and comes with a few instructions on how to best enjoy. "Light me when your spirit it high and you want the positive vibes to continue," it reads.
2
Nest New York
Rose Noir & Oud Classic Candle
You'd be hard pressed to find a Nest scent you don't like. This candle is both sweet and musky, playful and mature that screams "I have my shit together." 
Lit Bklyn's Beau imparts a warm, spicy smell that envelops your body and room to provide maximum comfort. 
4
Diptyque
Baies/Berries Candle
For the berries yogurt parfait enthusiast, here's a candle to match your breakfast staple. The fruity, clean, floral aroma fills up the entire room with ease. Diptyque's candles also double as decoration and can be used as a mini vase for flowers or a holder for makeup brushes.
5
Jo Malone London
Lime Basil & Mandarin Travel Candle
Jo Malone carries a slew of candles that make you feel and smell luxurious. But the Lime Basil and Manderian candle is that girllll. This yummy candle's sultry waft of lime basil and manderin adds a touch of maturity to any setting. Plus, Jo Malone candles come with a lid to extend its quality and shelf life. 
6
Vancouver Candle Co
Queen West
vancouvercandleco.com
$19.99
Vancouver Candle Co's Queen West smells like rolling around in a pile of warm, freshly-dried bed sheets. Made with the finest ingredients like soy, essential oils, and a woodsy fragrance, this average-sized candle packs a punch.
7
Byredo
Loose Lips Scented Candle
saksfifthavenue.com
$85.00
Lighting Byredo's Loose Lips candles transports you to City of Lights. A scent that feels both vintage and fresh at the same time, Loose Lips is built around sweet rosewater and Morello cherry that extends past any room its in.
8
Malin + Goetz
Otto Candle
Set the mood with this aromatic blend of rose petals and geranium. The floral scents are married with spicy clove and black pepper that'll be the talk of any house gatherings.
9
Rituals
Imperial Rose Scented Candle
Rituals' Imperial Rose candle is beautiful in and out. Between tts gorgeous gold packaging and musky-meets-floral scent, this candle is an attention seeker and keeper. 
lelabofragrances.com
$75.00
You've been a fan of Le Labo's signature smoky Santal 26 fragrance for years. Now, it comes in candle form to greet you when you walk through the door. 
11
Lumira
Arabian Oud Candle
Lumira's Arabian Oud candle takes you on a rollercoaster ride through its powerful scents. It opens with a mature smoky scent before inviting sandalwood and earthy patchouli in.
12
Brooklinen
Scented Candle
The trusted brand that has gifted us the softest sheets has a set of candles to make our beauty sleep feel even more luxurious. Each scent matches its title, like Wake's crisp ocean tide scent or Dusk's woodsy aroma. You can buy one, or buy all four to light throughout the day.
13
Alaïa Beauty
ALAÏA PARIS Scented Candle
Inspired by the brand's first perfume, Alaïa Paris' candle tickles your nose with notes of pink pepper, freesias and peonies.
14
Kilian
'The Scent of Winter' Candle
If Game of Thrones was a candle, this would be it. Founder and creative director Kilian Hennessy recruits a perfumer each year to evoke the feeling and scents often associated with the winter holiday, like the glazed chestnuts used in this candle.
15
Anthropologie Home
Medium Livi Scented Candle
For a scent that is as spring as they come, Anthropologie's bright Livi candle is formulated with juniper, sage and citrus, and punctuated with a cashmere.
This content is created and maintained by a third party, and imported onto this page to help users provide their email addresses. You may be able to find more information about this and similar content at piano.io
Advertisement – Continue Reading Below