[dp_demo_ad_fullx90]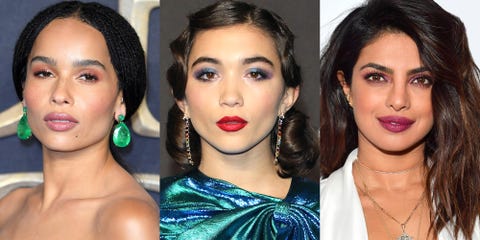 Getty Images
Love is in the air. Well, love for lipsticks, eyeshadow palettes, lip glosses, lashes, and liner is, anyway. Spend this Valentine's day with your true love, makeup. We rounded up 15 looks from celebrities to inspire your Saint Valentine's day makeup. Whether you spend it with a boo or with your friends, you know the one who has always been there to hold you up: Your product stash.
Advertisement – Continue Reading Below
1
Pretty Bad(gal)
The vibe: This is a pretty sweet look for the self-proclaimed Badgal.
The steps: Carry your highlight from the tops of your cheekbones in a C-shape up to your temples and apply the same shade to your lids for a shimmer effect. The bright pink lip with a gloss adds a youthful finish. Try Fenty Beauty's Starlit Hyper-Glitz Lipstick and Killawatt Freestyle highlighter and get your Rihanna on.
2
Young Hollywood
The vibe: Why not bring the glitz and glamour to your date night or GNO? Blue and purple shadows pair nicely with a bold red lip.
The steps: Rowan Blanchard recently joined the Pat McGrath muse family and is already serving major looks. Use Muva's Mothership Palette to create the stormy eyes and a fire engine red, like M.A.C's Ruby Woo, to finish off the bold face.
4
Fantastic Face Beat
The vibe: A sunset on your eyelids! Kravitz's mix of pink and orange shimmers makes her eyes the star of the show.
The steps: Start with an orange shimmer near the tear ducts and move across the eye with alternating light and dark pink shadows. (The YSL Couture Palette is your best bet at selecting similar colors.)
5
Pucker Up Purple
The vibe: Don't play it safe with classic red and pink makeup. Purple is a great color option that still falls under the V-day theme.
The steps: The Norvina Eye Shadow Palette by Anastasia Beverly Hills is easy to use and the perfect mix of purple shadows. Go for a creamy lipstick like this violet shade from Kat Von D.
6
Eyes on Me
The vibe: Less is more. Kendall Jenner let her natural freckles shine through her foundation, but added a bit of drama with winged eyeliner and long lashes.
The steps: Run a black liner around your top lash line and either add lots of mascara or a few falsies. You can't go wrong with any of these eight fake lashes.

7
Pynk
The vibe: Leave it to Janelle Monáe to make Valentine's Day that much cooler with a futuristic look.
The steps: Swipe a bit of pink liner across your lower lash line for an unexpected twist. Finish with a bit of gloss on the lips. Voila!
8
I, Margot
The vibe: Margot Robbie transformed herself into Tonya Harding for the movie I, Tonya, and now you too can transform yourself into Margot Robbie (or something similar) for Valentine's Day. Margot Robbie's subtle lip stain gives off the perfect just-been-kissed vibe and is complemented by powerful bold and black lashes.
The steps: Achieve the look with a similar lip stain like Revlon's balm stain or Benefit Cheek and Lip Stain and a half set of lashes like these from M.A.C.
9
Youthful Red
The vibe: Take a classic red lip one step further with a layer of shine. Add gloss to your favorite red for a youthful take like Grownish star Yara Shahidi's. Groomed brows plus a deep lip is a look your love won't be able to resist.
The steps: Try Glossier's Generation G and lip gloss duo.
10
Pink with a Punch
The vibe: The eldest of Hadid supermodels went for a powerful pink look at her Gigi x Maybelline launch party in London.
The steps: Mix pink and light metallic hues to achieve the bright eye and a gloss to finish the lips. Too Faced Just Peachy palette will work perfectly for the eyes.
11
Wonder Lip
The vibe: Wonder Woman, the face of Revlon, is the perfect inspiration for your classic Valentine's Day red lip. Strong, classic, and beautiful like Gal herself.
The steps: Try Revlon's ColorStay Ultimate Liquid Lipstick.
12
Purple Haze
The vibe: You don't have to stick to the red lip rule! Be adventurous and go for a berry lip like Lupita. Pair with a smoky eye for the ultimate sultry look.
The steps: For a deep blackberry purple, try Makeup Forever's matte lipstick in Blackcurrant or NARS lip pigment in London Calling.
13
Modern Romance
The vibe: A thick layer of eyeliner in a deep black and a soft gloss-topped pink is a romantic look fit for the most romantic day of the year.
The steps: Add a light shimmer to the tear duct to make the whites in your eyes pop. Use the same color on the brow bone for added highlight. Try Bobbi Brown Shimmer Eyeshadow in bone for the iridescent shimmer.
14
Flossy Glossy
The vibe: We've said it before and we will say it again: Lip gloss is back. Why not go au naturale, but apply a coat of gloss for shine?
The steps: Try Glossier's lip gloss or Bella Hadid's favorite Dior Addict Ultra gloss.
15
The Cat Eye
The vibe: Be like Bella Hadid and give yourself double-winged liner complete with strategic placements of gold shadow at the inner and outer corners.
The steps: Charlotte Tilbury's The Feline Flick eye liner works wonders.
Advertisement – Continue Reading Below