[dp_demo_ad_fullx90]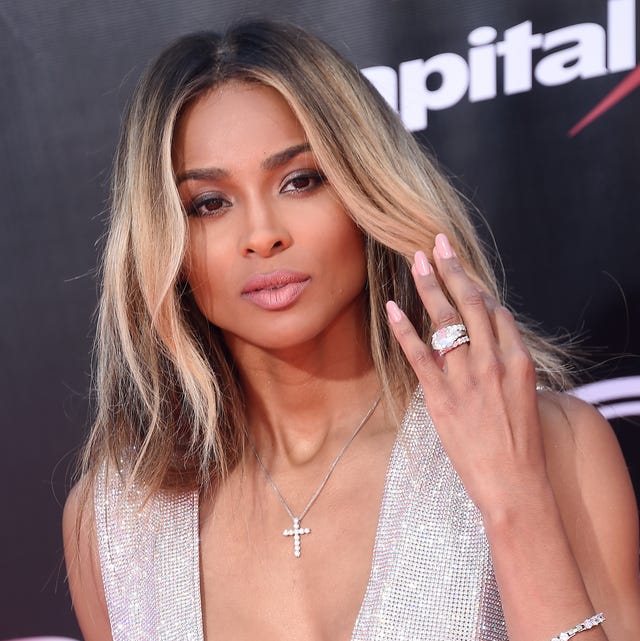 Gregg DeGuireGetty Images
Brown hair gets a bad rap for being basic and lacking dimension. And, while brunettes can certainly benefit from some added color, caramel highlights and honey-toned balayage aren't the only way to upgrade your natural shade. If you're looking to update your brunette with a cooler color option, consider ashy tones—a hue where brown and silver meets.
It can be worn in subtle highlights or a full-on balayage for the ultimate transformation. If you've been apprehensive to go full silver, ash is the perfect way to get in on the trend without destroying naturally dark hair. Ahead, find the ash-brown hair color inspiration you'll want to screenshot before your next appointment and the tips you'll need to pull off the trend.
Advertisement – Continue Reading Below
Ciara
Untouched roots let you embrace your naturally dark base, creating a low maintenance transition that won't land you in your stylist's chair every week. Ciara's biscuit beige-grey balayage blends with creamy ecru strokes, creating a cool tone that transcends seasons.
Taylor Swift
Taylor Swift's borderline-blonde look is perfect for those trying to cover up gray strands. The cool undertones of this light shade and the variety of highlights and lowlights camouflages all traces of unruly gray, and makes upkeep a breeze.
Tyra Banks
In case you thought ash brown hair would wash you out, Tyra Banks' cool-toned 'do proves it can actually warm up even the most golden of skin tones. Keep in mind, if you have dark brown or black hair, you'll likely have to bleach your hair before going ash brown. If you're starting with a lighter shade, you can skip that step.
Gigi Hadid
If your brown hair is on the lighter spectrum like Gigi Hadid, you can still keep your sun-kissed ends, while trying the ash trend. Your colorist will go with less warm tones and incorporate more silvers. However, it's your job to add a toning hair product into your regular hair routine to avoid brassiness.
Lily-Rose Depp
Although the ash brown trend looks completely natural, don't forget all color-treated hair requires a certain amount of upkeep to maintain a healthy-looking shine á la Lily-Rose Depp. Opt for products safe for color-treated hair like sulfate-free shampoos and conditioners. Treat yourself to a nourishing hair mask once per week. And, finally, a hair oil will give you an instant shine when your hair is lacking a certain luster.
Jessica Alba
If your hair is already lighter at the ends like Jessica Alba's, you can still keep your ombré, while getting in on the ash hair color trend. The best part is your already-low-maintenance dye job will just get even easier to maintain. Unlike coppers and caramels, cool tones last much longer and fade much slower. Just be sure to use a purple shampoo and conditioner every time you wash to keep the ash tones fresh.
Khloé Kardashian
Although Khloé Kardashian's dip dye comes incredibly close to making her a full blonde, her dark roots are still brunette. The secret to getting her cool-toned "bronde" is ditching all traces of honey shades, and applying a cool toner all-over color or adding in subtle silvery highlights instead. Again, be sure to keep that purple shampoo on deck.
Blake Lively
Another fan-favorite bronde is none other than Blake Lively, and she knows just how to pull off ash tones. For fairer skin with cool undertones, try weaving in silver highlights and lowlights throughout to give your hair dimension without washing out your complexion.
Shay Mitchell
If you're looking to dabble in the ash brown hair trend, but aren't quite ready to commit, try this super subtle balayage á la Shay Mitchell. The color technique and cool undertones make it feel like a major refresh, but sticking to the ends and incorporating thin ribbons requires little upkeep and causes the least amount of damage.
Jessica Biel
Jessica Biel proves that even dark-haired brunettes can get in on the ash brown hair color trend. A silvery-brown tint applied throughout will neutralize any caramel and yellow tones in your mane, giving it a cool, lived-in color. Once you've tinted your stands, consider laying off the heat-styling and embracing your natural texture to prevent further damage.
Amanda Seyfried
On the other hand, if you decide to heat style your ash brown hair like Amanda Seyfried, take precautions. Your hair has likely been through a lot to achieve your cool new color; the last thing you want to do is damage it more with hot tools. Before firing up your curling iron (or straightener, or blow-dryer), apply a heat protectant spray to defend your strands.
Alessandra Ambrosio
Perhaps the most subtle looks of all, Alessandra Ambrosio's ash brown highlights give her long hair depth and dimension, while still maintaining her naturally deep brown color. The ash brown streaks are dark enough to create a barely-there variation, but they extend from the roots to tips, so there's zero chance of you missing them.
Emily Ratajkowski
Painting your hair in a smokey grey hue with hints of mocha add depth and allow you to keep your dark shade. Plus, the cooler ash tones complements olive skin like a dream. See Emily Ratajkowski's for proof.
Kim Kardashian
If you want to get in on the ash brown hair trend but refuse to ditch your complexion-warming honey highlights like Kim Kardashian, we have the solution for you: Keep a few golden streaks to frame the face and incorporate ash tones everywhere else. The contrast is surprisingly striking.
Jennifer Lopez
Ash brown is a universally flattering shade the combines both warm brown and silvery grey, making it incredibly wearable. It works on cool and warm skin tones alike and gives hair tons of dimension. Layering hair shades ranging from cool to neutral browns, blondes, and greys like on Jennifer 'Lopez's mile-long pony is the secret to the perfect ash.
Advertisement – Continue Reading Below