[dp_demo_ad_fullx90]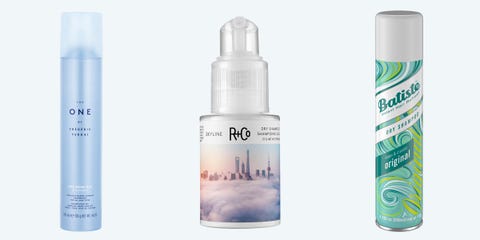 Courtesy
I don't often have "empties" a.k.a beauty products so well-loved they're used down to the last drop in an emptied bottle. Dry shampoo is the only exception. In fact, if I were to make an estimate I'd say my hair is 50 percent dry shampoo at any given moment. I can't tell you the number of times it has saved me from looking like a mess after a sweaty workout, post-flight greasiness, or flatness the second day after a salon blowout.
As someone with really thick, long hair, I'll take any excuse to skip shampooing and save time in the morning. That means I've been on an endless hunt to find the perfect dry shampoo. What does that look like? A formula that makes you actually feel cleaner, eliminates stringy, oily strands in an instant, adds some grip for styling, and most importantly, doesn't appear white on my dark strands.
I go two to three days without washing thanks to dry shampoo. If you've got the same habit, just keep in mind that there is such a thing as using too much of it. As Dr. Dominic Burg, chief scientist and biologist for évolis professional, has told ELLE.com, "You can think of it in a similar fashion to applying a foundation or powder to your face. You wouldn't leave those products on your face for days on end. Your scalp is no different," he said. "The fine starch powders used in dry shampoo can be very clogging for the scalp, particularly follicular pores…instead, focus on the hair strand's lengths and ends. Excess powder on the hair strands should be brushed out thoroughly on a daily basis to avoid buildup."
Now that you know how to properly use dry shampoo, allow me to share the 17 best I've ever tried, ahead.
Advertisement – Continue Reading Below
Klorane Dry Shampoo with Oat Milk
Behold, the ultimate cult-favorite. There's a reason this dry shampoo has stood the test of time: It leaves you feeling totally fresh and clean while adding some texture to your roots and strands, which is ideal for styling. Use it on clean hair, too!
Living Proof Perfect Hair Day Dry Shampoo
This has to be the most borrowed (ahem, stolen) product from my personal beauty stash. It is wildly popular for the way it not only sops up any greasy build-up, but also adds volume. 
amika Perk Up Dry Shampoo
As a sucker for fun packaging, I was an instant fan of Amika's dry shampoo. Thankfully, it performs just as well as it looks. You can be heavy handed with this spray (I definitely am post-workouts), but never need to worry about it looking powdery.
Moroccanoil Dry Shampoo Dark Tones
Like all of Moroccanoil's products, this dry shampoo has the nourishing properties of argan oil infused in every spritz so hair doesn't get dry. I'm also a fan because it comes in light tones and dark tones, so people with black hair like me can avoid getting that dreaded white powder residue.
Psssst! Instant Dry Shampoo Spray
Like many people, this Psssst! was my first introduction to dry shampoo. It is still reliable as ever at absorbing excess oil, and now comes in fun scents like coconut and citrus.
R+Co Skyline Dry Shampoo Powder
If you're not a fan of aerosol, this powder pump works wonders. It dispenses just the right amount of a finely milled formula that immediately sinks into your hair to give a major boost at your roots.
VERB Light Hair Dry Shampoo Spray
urbanoutfitters.com
$16.00
True story: This dry shampoo had a 2,000 person waitlist when it first launched. Available in both dark and light tones, the spray lives up to the hype, depositing a texturizing formula that revives dead strands.
Batiste Dry Shampoo
For under $10, it doesn't get any better than Batiste. The body-building formula is tried and true and comes in a wide range of scents.
Oribe Gold Lust Dry Shampoo
This is a great option if you're looking for a lightweight spray. This formula absorbs oil and moisturizes without without weighing down or adding too much texture to silky strands.
Ouai Dry Shampoo Foam
This unique take on dry shampoo features a foam dispenser, which makes you get that satisfying fresh, sudsy feeling of an actual shampoo without having to get hair wet. It leaves hair feeling extra conditioned and voluminous instantly. 
Dove Beauty Refresh + Care Dry Shampoo Volume & Fullness
You know and love Dove's bodycare products, but have you been sleeping on its amazing haircare range? The hairspray holds style and leaves hair softer than ever, while this dry shampoo adds fullenss to limp, second (or third) day hair.
The One by Frederic Fekkai One More Day Dry Shampoo
This dry shampoo not only refreshes your hairstyle, but also claims to add a layer of protection from pollutants to leave hair healthy and soft.
IGK Direct Flight Multi-Tasking Dry Shampoo
IGK created a unique blend of ingredients for a multi-tasking dry shampoo: Turmeric lifts build-up, charcoal powder cleanses, and matcha powder strengthens the hair. 
Elizabeth and James Nirvana Bourbon Dry Shampoo
If you ever wondered how Mary Kate and Ashley Olsen got their signature tousled waves, here's your answer. Elizabeth and James's dry shampoo uses rice starch and rose root extract to add volume and a delicious scent. You'll find you won't even need to use perfume. 
Miriam Quevedo Platinum & Diamonds Scalp Soothing Dry Shampoo
Too often, our scalps get neglected. This luxury take on dry shampoo will make sure that's not the case with ingredients like thermal water, which helps to calm the scalp from any product buildup-caused irritation.
Bumble and Bumble Pret A Powder Shampoo
This classic powder shampoo works on even the finest, oiliest of hair types. All you have to do is sprinkle a little bit on your roots and rub (or do a shampooing motion) with your hands until the powder is undetectable. 
DpHue Apple Cider Vinegar Dry Shampoo
Apple cider vinegar is known to have antimicrobial properties—and particularly help with scalp health. This formula also has naturally antiseptic ingredients like lavender and dandelion extract, so you know you're really getting clean and not a superficial dusting of product.
Advertisement – Continue Reading Below