[dp_demo_ad_fullx90]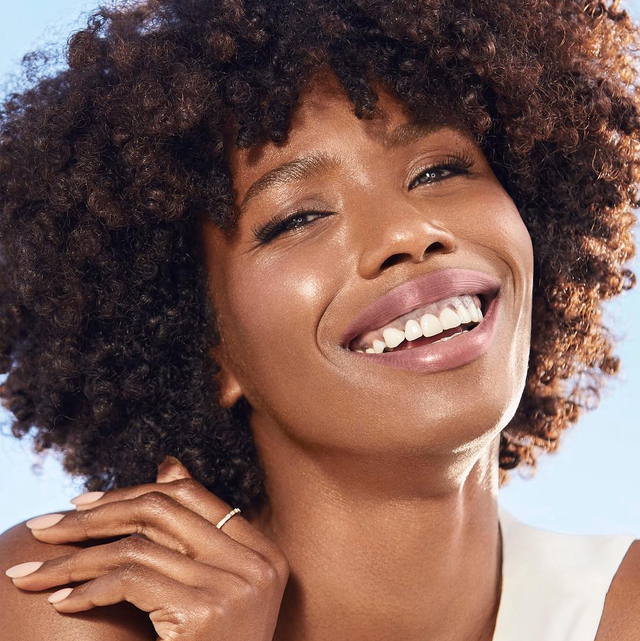 Honest Beauty
Here's something I thought I'd never say: I'm tired of matte lipsticks. While I love the smooth, pigmented look of a matte formula, I have to admit it can suck the life out of your lips. Juicy lips feel shriveled after a day coated by a matte liquid lipstick. Reapplying matte tube lipsticks throughout the day only leaves lips chapped. Don't get me started on the precision it requires, either—because matte formulas pack a lot of color payoff, you have to be meticulous about application to avoid any feathering or smudging.
Thankfully, makeup companies like Honest Beauty, Chanel, Pat McGrath Labs, Dior, and more have been leaning away from the matte look and into lower maintenance, sheer tinted lip balms. They add just the right amount of color to your lips while remaining low-commitment, so you can switch up your shade mid-day without requiring 100 makeup wipes to get the job done. Forget the lip liners and lip brushes, too: The buildable tint balms give lets you apply them without even requiring a mirror. Most importantly, balms treat your lips at the same time so at the end of the day, your pout feels moisturized and plump.
Convinced to chuck your mattes? Embrace the tinted balms wave with my favorite picks, ahead.
Advertisement – Continue Reading Below
Honest Beauty Tinted Lip Balm
This new line of tinted balms from Jessica Alba's Honest Beauty is just delicious. The formula is vegan and packed with avocado oil, acai, and pomegranate extracts that not only taste good, but make your lips feel silky. The wash of color is also just right—your lips, but better.
Bobbi Brown Extra Lip Tint
I never go anywhere without this in my purse or pockets. The Bare Raspberry shade is my favorite because it adds a sheer but deep stain that mimics your lips after eating a grape popsicle. Ingredients like olive, avocado, and jojoba oils feel luscious when you swipe it on. 
Flesh Fleshy Lips Lipstick
I can't stop rubbing my lips together when I wear this creamy lipstick, which is more of a tinted balm with its sheer finish. The shade "Hungry" is the perfect nude for my medium skin tone. 
Dior Addict Lip Glow Color Reviving Lip Balm
It's all in the product name: Once you start using this balm, you really get addicted. It not only looks beautifully packaged, but also adds a tint of color that looks different—and universally flattering—on everyone. You don' get a slippy, oily feeling either, just  pure softness. 
Pat McGrath Labs Lip Fetish Lip Balm
I have collected every single shade of Pat McGrath's balms because I'm that obsessed. They give you the substantial, hefty feel of a lipstick with the hydrating properties of a balm and the perfect veil of color. 
Tatcha Beautyberry Camellia Lip Balm
If you prefer a pot version of a balm, nothing beats Tatcha's. This berry tint is powered by camellia oil, which nourishes even the most dried lips back to health.
Chanel Beauty Les Beiges Healthy Glow Lip Balm
I adore Chanel's more pigmented lipsticks for a special event or nighttime, but these tinted balms infused with moringa butter are ideal for daytime use. On a good skin day, this balm and some brow gel is all I'll wear to look fresh. 
NARS Afterglow Lip Balm
If you don't want an obvious color but just a little enhancement, NARS' lip balm is a must-have. It looks pink, but goes on super sheer to amp up the natural shade of your lips. Bonus: The rose gold packaging looks ultra chic in flat lays for the 'gram. 
Lano Lips Tinted Balm
If juicy is what you're going for, look no further than Lano's tinted balms. The tiniest dollop is all you need to make lips look kissable. Plus, it is all-natural and free of parabens, petroleum, and mineral oils so you can feel good about slathering it on. 
Yves Saint Laurent Volupté Tint-in-Balm
I am a huge fan of the pomegranate scent on these tubes. I'm even more obsessed with the unique 2-in-1 color in the balm that contours your lips with the complementary shades and keeps them nourished with apricot butter and jojoba oil.
JOAH La Bam Balm Tinted Lip Balm: Fiesta
For drugstore lovers, this K-Beauty brand offers an under-$5 offering that glides on lips like butter and achieves the elusive just-bitten look.
Coola Suncare Mineral Liplux Organic Tinted Lip Balm SPF 30
People always forget about SPF for your lips—they're made of skin, too! Make sure to pack this creamy balm for a pink-ish wash of color and ultra soft cupuaçu butter and mongongo oil-infused formula. 
Burt's Bees Tinted Lip Balm
Ah, the O.G. tinted balm favorite. Thousands of people search for this product a month and with good reason—you get eight hours of lasting moisture, the perfect no-makeup makeup neutral lip shades, and safe-for-you botanical ingredients. 
Origins Blooming Sheer Lip Balm
This balm is powered by crushed petals from 12 flowers including lavender and jasmine. Meanwhile, wildflower honey helps with retaining moisture so your lips feel as soft as the inside of a rose.
Fresh Sugar Lip Treatment Sunscreen SPF 15
Aside from turning your lips into a more succulent hue, these popular citrus-scented balms nourish lips with grapeseed oil, black currant seed oil, and sugar. 
Tinted Lip Conditioner
Green beauty lovers all flock toward Ilia's all organic makeup products. This ultra hydrating balm conditions the lips with olive oil, sesame, and vitamin E while painting the lips with translucent hues of peach, pink, and berry.
Wander Beauty Beach Balm
Wander Beauty
sephora.com
$22.00
This perfect berry lip tint can double as a subtle cream blush. It's also formulated with micro-fine pearl pigments to add even more luminescence to your smile. 
Kjaer Weis Lip Tint
If fingers are your preferred method of application, keep this organic tinted beeswax and jojoba balm in your back pocket. The packaging is chic, yes, but also is reusable so you can reduce waste in your beauty routine. 
Advertisement – Continue Reading Below