[dp_demo_ad_fullx90]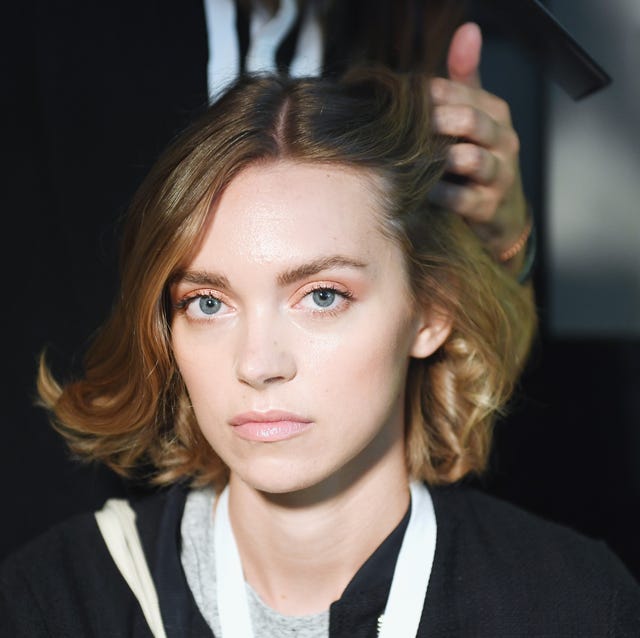 Getty Images
If you have thin hair, it can be difficult to know what kind of hairstyles will look best. We spoke with Dimitri Giannetos, who works with Camila Cabello and Emily Ratajkowski, Jennifer MacDougall, a celeb hair stylist who's worked Project Runway, and more to find out how women with hair on the fine side should style their locks to look their best. Ahead, we've rounded up some of our favorite thin hairstyles spotted on Instagram.
Advertisement – Continue Reading Below
1
Ombré Bob
This hair cut is longer in the front, which creates a more textured, interesting look.
2
Long Bangs
Show off your bone structure and give an air of mystery with thin bangs cut longer than usual, right at your lashes.
3
The Pixie
Giannetos also recommends the pixie cut because "it's summer and you can style it very easily." This would also be a fun time to play with colors, as well as headbands, scarves or hair accessories.
4
The Lob
Celeb stylist Dimitri Giannetos gave Meghan Trainor a chic, short cut. Another plus of the lob? James explains that it's an easier style to maintain, which can help you limit the use of damaging blow dryers or hot tools.
5
Slicked Back
For a look that fights off humidity, try out an entirely slicked back style. This can be achieved by teasing the roots, and then slicking everything back with a cream or pomade.
6
Pull-through Braid
Not only does MacDougall swear by the pull-through braid, she even created a tutorial online to demonstrate how it can be achieved at home. "I love a pull through braid as you can easily expand your hair in the braid and pump up the volume," she says.
7
The Low Pony
A slight tease or blast of dry shampoo at the root of a low ponytail will make it look much more full, as well as the loose strands at the front. Definitely include some accessories!
8
Choppy Bangs
Thicker bangs in a choppy cut are nearly universally flattering, but they're also a great solution for women worried about their hair appearing thin. You can also add in texturizing or salt sprays for a messy look.
9
Wispy Bangs
Wispy bangs work with the light weight you already have in your hair to add some dimension to updos.
10
The Big Bun
This bun is super full and thick and its height and volume on the top makes it all the more impactful.
11
Voluminous Bob
If you have thin hair, hot rollers are your best friend. Leave them in for just 1o minutes and you'll get voluminous, Cindy Crawford-like waves.
12
Curls
Big, bouncy curls can definitely add volume and much-needed thickness to thin hair. Why not opt for a perm for longer lasting results?
13
Straight
One of the advantages of thin hair is that it lays flat on your head—take advantage by wearing your hair straight and parted down the middle like Margot Robbie.
14
Curtain Bangs
While creating a sweeping part in the middle of your bangs may not immediately appeal to you, it's actually a perfect way to create the illusion of thicker hair.
15
Slicked Low Pony with Extensions
MacDougall explains that for this mode, she used a full ponytail extension. This is great not only for those concerned about thin hair, but for people who just want to occasionally change up their look for fun.
16
Shoulder Length Layers
If you're determined to keep your hair on the longer side, opt for long layers and blast volume spray all over.
17
Side Part
It doesn't get anymore classic and low maintenance than this simple lob worn to one side.
18
Longer Pixie
Pixies are adorable, but leaving just a few extra inches to play with on top can really work wonders if you're concerned about making your hair look thicker.
19
Balayage
Because balayage uses softer coloring at the root and works its way into a more pronounced highlight, it can add texture to your hair without having to manually style it. "Adding some balayage or highlights will create dimension in your hair," explains MacDougall. "This creates a more voluminous appearance."
20
Floral Accessories
While this is more of a wedding or special occasion look, it's a good one to keep in mind as flowers add some visual interest and life to hair that may otherwise fall flat.
21
Curly Bangs
Summer heat and humidity does no favors for slick-straight hair. Lean into texture and wear your hair and bangs wavy for a relaxed, beachy vibe.
22
Slicked Back Side Pins
Create this look by loosely curling your hair and using a boar bristle brush to tuck sections at your ears back. This is an easy way to hide extensions underneath.
23
Wrapped Updo
For this 'do, make sure you add the dry shampoo or texturizing spray at the root, and that you leave a couple of loose strands at the front. Now, here comes the fun part: toss in a small scarf of your choice and either twist it through or wrap it around a messy bun or braid to immediately elevate the look.
24
Accessorized Waves
This is the perfect look for any music festival. While Justine Marjan used safety pin chains, you could also use ribbons or wraps to create even more drama.
25
Braided Half Up
While this look definitely requires extensions, it would be the perfect style for a fun night out. Clip in extensions that are the same length as your natural hair—you're hoping to make your hair look fuller, not longer—and braid the front pieces over the clip-ins.
26
Tapered Bangs
If blunt bangs are too much for you, consider getting tapered side bangs in the front so that they frame your face. Add texturizing spray and scrunch it up for a look that appears fuller.
27
Messy Waves
Mitchell also suggests using a curling iron to create loose waves, and then "brushing it out after to expand the shape and create fullness." Mitchell also specifies that it's still important to use a hair powder for volume at the roots.
28
Wrapped Up
This can work with any updo—just add a bandana that fits right behind your ears. Pull some hair in front over the band for a thicker look. From there, throw your locks in a pony or a bun.
29
Pumped Up Pony
A voluminous ponytail like this can be achieved by first curling hair, using a bungee cord for bounce, and teasing out the tail with a boar bristle brush.
30
Bangs
While bangs may seem counterintuitive, they actually create the illusion of thicker hair. This thick bangs transformation is a perfect example.
31
Messy Bun
Before throwing your hair up in a messy bun, make sure to add dry shampoo or texturizing spray from the roots to about midway down the length of your hair. This will help it hold volume. From there, twist it back and secure it with bobby pins. Once you feel like it's completely secure, pull around the bun to loosen it up.
32
Half Up
This is the perfect way to seamlessly disguise clip-in extensions for a look that can either be slicked back and party-ready, or loose and casual. Light waves or curls will add volume—especially if you include a shot or two of texturizing spray.
33
Rounded Bangs
Once again, bangs are the best move for thin hair. Try some rounded ones with straight strands, like Duckie Thot.
34
Tapered Bob
Stylist Marisa Mitchell encourages women with thin hair to consider taking their cut shorter as well. "I recommend a shorter bob that's above the shoulder and cut very blunt," says Mitchell. "This draws people's eyes to the line and creates the appearance of fullness."
35
Slicked Back Bun
Save this look for when you're at the beach—those salty waves will do wonders for pumping up your thin hair.
Brittany Loggins
Brittany Loggins is a freelance lifestyle writer covering beauty, travel, and food.
Advertisement – Continue Reading Below