[dp_demo_ad_fullx90]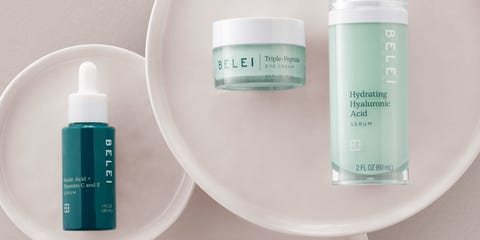 Amazon
If any company knows what people want in beauty products, it's Amazon. From 4,000+ reviews on a clay mask to 7,000+ reviews on tweezers, Amazon users don't hold back when it comes to proclaiming what works—and what doesn't. So it was only a matter of time before the mega e-tailer would launch its very own in-house skincare line: Belei.
Belei debuts with 12 products including moisturizers, serums, creams, sunscreen, and wipes. They are focused on trendy ingredients the 2019 shopper (more skincare savvy than ever) is well aware of: charcoal, micellar water, hyaluronic acid, vitamin C, and retinol. The line also appeals to conscious shoppers on a number of fronts because its minimalist, all-teal packaging is made of recycled materials. Plus, the formulas are all free of parabens, sulfates, fragrance, phtalates, and is not tested on animals.
The affordable price point is another major selling point—all products ranging from $9 to $40. Find out more about each item, and shop them all, ahead.
Advertisement – Continue Reading Below
Belei Oil-Free Micellar Facial Cleansing Wipes
A single order of these wipes gets you 50—a major plus considering how much they'll be used. Micellar water is known to easily lift makeup, dirt, and oil off your face while leaving it feeling moisturized (not stripped!). 
Belei Dark Spot Solution Serum
This serum's hero ingredients are niacinamide (a form of vitamin b3), which is known to help even skin tone and plankton extract, which is great for moisture retention.
Belei Blemish Control Spot Treatment
This spot treatment contains a classic acne-fighting ingredient: 5.5% Benzoyl Peroxide. Apply it as soon as you feel a pimple coming for it to be most effective.
Belei Oil-Free Face Moisturizer UVA/UVB SPF 50 Sunscreen
If you're in the market for a no-frills everyday sunscreen, this is it. It's fragrance-free, lightweight, and broad spectrum so you're getting maximum protection.
Belei Charcoal Balancing Mask
What's a skincare routine without a mask? Incomplete. Add in this charcoal one that will absorb excess oil and dirt. If you're worried about skin feeling sucked dry, no worries—it also contains hyaluronic acid that moisturizes the skin.
Belei Vitamin C + Hyaluronic Acid Serum
If you're suffering from acne scarring or discoloration, adding a Vitamin C serum to your routine could be the best solution. Apply it after cleansing and come out with brighter-looking skin.
Belei Vitamin C Moisturizer
Double up on the skin-refining properties of Vitamin C with a moisturizer that contains the ingredient, too.
Belei Bio-Complex Moisturizer
This silky-feeling moisturizer contains a power trio of ingredients for plump, bouncy skin: hyaluronic acid, squalene, and glycerin. 
Belei Ferulic Acid + Vitamins C and E Serum, Fragrance Free, Paraben Free, 1 Fluid Ounce (30 mL)
Consider this the more affordable version of SkinCeuticals' cult-favorite C E Ferulic serum (which costs a casual $166). Using it regularly will up your dose of antioxidants that will prevent skin from deepening fine lines and guard it from environmental stressors. 
Belei Hydrating Hyaluronic Acid Serum
Thirsty skin will appreciate the major, refreshing surge of moisture in every pump of this serum.
Belei Triple-Peptide Eye Cream
This eye cream contains caffeine, which tones down any puffiness, and more of that hylauronic acid to reverse crepe-y looking skin. 
Belei Retinol Refining Moisturizer
Retinol is known to be a power ingredient every skincare routine should include for the way it fights nearly every skin concern there is from acne to wrinkles. 
Advertisement – Continue Reading Below