[dp_demo_ad_fullx90]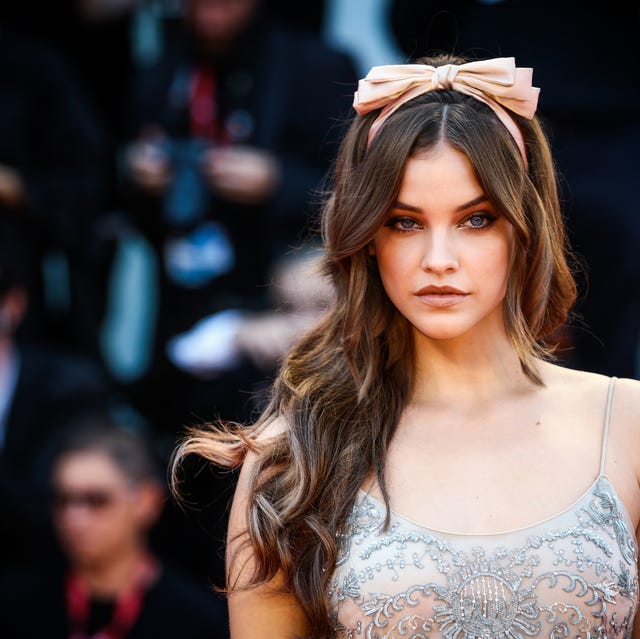 NurPhotoGetty Images
Walking the red carpet is an act that takes mere minutes—seconds, even—but requires hours of preparation. Just ask Armani Beauty ambassador Barbara Palvin. I got a true understanding of this long process when, ahead of the Venice Film Festival premiere screening of Joker (which we attended as guests of Armani), I met the model in her glam suite. I watch Palvin as she transformed into a 2019 version of Brigitte Bardot, complete with pink velvet hair bow and all. Piles of extensions covered the couch while hairstylist Owen Gould built up '60s volume in her crown. Makeup artist Charlotte Prevel simultaneously layered nudes and bronzes on top of Palvin's glowing skin to create the sultr-yet0romantic vibe you see above.
The Sports Illustrated vet and Victoria's Secret Angel says her first step in conceptualizing a red carpet beauty look is picking the outfit and sending it along to her beauty team well ahead of time. "We'll all come together. If I have three nights of events, I go for three totally different looks," she says. Although she usually wears zero makeup day-to-day and likes a "very simple, natural" look if anything (that means a base, a little mascara, and soft lip like Armani Beauty's new Lip Maestro Matte Nature range of neutrals), when it comes to being camera-ready, she is down to experiment with everything from faux bangs and bobs to orange eyeshadow. "I'm not scared to try," she tells me. "There are a lot of girls who have their favorite look, and that's just what they'll do, but I actually like to do different things."
Ahead, look back at some of her most memorable red carpet looks and hear about their inspirations in Palvin's own words.
Advertisement – Continue Reading Below
August 2019: Braid Sculpture
"This has to be one of my favorite red carpet looks, ever, for myself. We wanted to go for something a touch Italian—with a bow at the back. I actually tried on a necklace but we didn't need it because the makeup and the hair themselves were just so beautiful. The hair took three hours."
June 2019: Blunt Bangs
"I always loved bangs. I had them when I was little, from the ages of eight to twelve, and then I grew it out. For this event, Diane von Furstenberg told me to show up, 'feeling as confident as you can' and 'just be yourself.' Maybe with the bangs I was bringing back the child in me."
February 2019: Faux Bob
"This is faux bob, but everyone seemed to love it so, I actually cut my hair after this event. Owen Gould did this—it was an old Hollywood vibe. There are pink and blue details in the dress, so that's why we did a little blue on the eye and pink lips."
March 2019: '90s Simplicity
"I think I cut my hair a week before that event! It was a daytime look, so I wanted to go with something super natural. It was summertime, so we obviously wanted to be sun-kissed. To bring out my eye color, we used black because I was wearing a baby blue suit."
February 2018: Sexy Slick
"I like when I don't have to touch my hair. If you have nice curls and you touch it, it goes flat because you keep touching it. With this look, you don't have to worry! It's just there and you look pretty. For the makeup, I just wanted to look sexy. It was for Sports Illustrated, so I wanted to be on brand: very full lips. And a cat eye—kind of like an I'm-checking-you-out eye."
October 2017: Baby Spice Frost
"Here we had sparkles [on the eyes] because we brought back details from the dress."
February 2016: Classic Smoke
"Here we focused on the eyes and not the hair—I never really do both. You see, I'm always careful with a smoky eye because it can be harsh. My eyes got red—you don't see it, but I see it. That's why I'm always careful with smoky if it's on for too long. I gotta be careful with that."
May 2014: Blood-Red Dye
"This hair color was for a hair color photo shoot. I loved it, too. I felt a little more rock and roll—the whole red carpet look made me feel like a James Bond girl."
May 2013: Orange Shadow
"We just wanted to do something [colorful] because my dress was simple and black. So, we were like let's pick a color, and this happened! [To pull off a bright eye shadow], don't do anything else. If the eye is a very strong color, you don't want to add a strong lip or a very confusing dress. You want to keep it simple and chic."
May 2013: Androgynous Glamour
"This is one of my favorite looks. I'm actually just wearing a ton of mascara—that's it. It looks like there's much more. We actually did a different hair style at first—more like a bowl or something—and I was like, 'I want it more masculine because I'm wearing a suit on a carpet.' That's why we slicked it back."
Advertisement – Continue Reading Below