[dp_demo_ad_fullx90]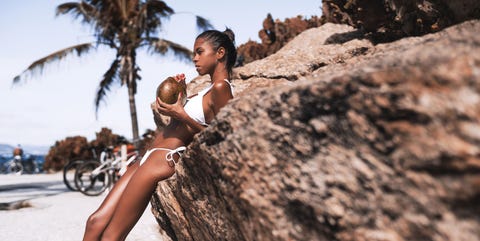 skyNext
Sunscreen is a must in any beauty routine. However, finding a daily sunscreen that slips into your beauty routine and plays nice with every other product (toner, serum, moisturizer, etc.) is no easy task. That's why we asked six dermatologists to nominate the most seamless, sheer-formula sunblocks for undetectable protection.
Melanie Palm, MD, director of Art of Skin MD first suggests picking a broad-spectrum sunscreen, meaning one that protects from both UVA and UVB light. "UVA causes aging changes in the skin—pigmentation, age spots, collagen destruction, waxy yellow discoloration of skin—and has been definitively linked to the development of melanoma," Palm explains.
As for active ingredients, many dermatologists prefer mineral-based sunscreens over chemical formulas. The latter's harmful chemicals (words that seem to contain the whole alphabet, like avobenzone and homosalate, are always bad signs) change UV light into heat, which can lead to inflammation. On the flip side, mineral agents like zinc oxide simply reflect harmful rays from the get-go.
Now that you have the science behind SPF, find out which daily sunscreen is best for you.
Advertisement – Continue Reading Below
La Roche-Posay Anthelios Mineral Zinc Oxide Sunscreen SPF 50
A favorite among top dermatologists is La Roche-Posay Anthelios Broad-Spectrum SPF 50. It's a lightweight (meaning it won't be too cakey) broad-spectrum sunscreen that protects against free radicals from the sun. " This water-resistant broad spectrum SPF 50 is free of fragrances and parabens, ideal for sensitive skin, and is an incredibly light mineral sunscreen fluid that won't weigh down skin," explains dermatologist Karen Hammerman of Schweiger Dermatology Group.
Dermatologist Sejal Shah of SmarterSkin Dermatology also suggests this sunscreen, recommending it for its sheer, matte formula."People with oily skin should skip thick, emollient-rich products and find a lotion with a matte finish," Shah says.
Neutrogena Ultra Sheer Dry-Touch Water Resistant and Non-Greasy Sunscreen Lotion
Supergoop! Everyday Sunscreen Broad Spectrum SPF 50
Rao also recommends Supergoop. Instagram's favorite oil-free SPF formula leaves a velvety matte finish so your makeup won't look too shiny. It's also made with natural extracts of citrus, basil, and bois de rose—which is a much more sophisticated scent than your good ole childhood Coppertone (no shade).
EltaMD Clear Broad Spectrum SPF46 Facial Sunscreen
Recommended by every dermatologist we spoke to, EltaMD is the gold standard. According to dermatologist Ellen Marmur, president and founder of Marmur Medical in NYC, it also contains salicylic acid, which will help deal with acne but is gentle enough for those with sensitive skin.
Avéne Mineral Light Hydrating Sunscreen Lotion
Due to sensitive skin's fickle behavior, Palm recommends Avène Mineral Cream. "People with very sensitive skin may have irritation reactions to chemical sunscreens so it's key to choose moisturizers that contain only mineral sunscreens," she notes. Palm adds that sunscreens including hyaluronic acid and ceramides will hydrate and heal dry, sensitive skin.
Jan Marini Skin Research Antioxidant Daily Face Protectant
This lightweight protector "combines broad-spectrum SPF 33 with moisturizers and antioxidants," says dermatologist Sejal Shah of SmarterSkin Dermatology.
CeraVe Facial Moisturizing Lotion AM SPF 30
Great for normal to dry skin, this drugstore sunscreen also contains moisturizing hyaluronic acid and ceramides. Palm also notes the inclusion of niacinamide, which improves pigmentation. An editor favorite, it doesn't hurt that it's the cheapest of the bunch, too.
First Aid Beauty 5 in 1 Face Cream with SPF 30
For hyperpigmentation, Shah recommends the homeostatine and alpha arbutin in First Aid Beauty's 5 in 1 face cream. "It lightens dark spots and evens skin tone, making it great for people with discoloration," she says.
NeoCutis Bio-Cream Bio-Restorative Skin Cream
According to the company, PSP is a purified growth factor that enhances collagen production, making it ideal choice for those wishing to improve skin texture. "It gently but effectively combats wrinkles and aging skin changes," Shah says.
SkinCeuticals Sheer Physical UV Defense SPF 50
Marmur's tinted picks? SkinCeuticals Fusion Tinted SPF 50 and Skin Medica Total Defense because they are "smart sunscreens that make your skin look amazing while protecting you."
ColoreScience Sunforgettable Mineral Sunscreen Brush SPF
Just because you applied sunscreen in the morning doesn't mean you're done for the day. Shah opts for sunscreen powders and SPF setting sprays that can be stored in your bag and dusted on throughout the day.
Shiseido Clear Stick UV Protector Broad Spectrum SPF 50+
Shiseido's Clear Stick works both under and over makeup. It also features WetForce technology that strengthens the SPF when it comes into contact with water or perspiration. If you need help applying, watch this helpful tutorial.  
Aveeno Positively Radiant Daily Facial Moisturizer SPF 30
Aveeno Positively Radiant Daily Facial Moisturizer works to improve skin tone, texture, and blotchiness. The moisturizer leaves a semi-matte finish, perfect for finishing with a foundation. 
Glossier Invisible Shield
The gel-based formula is so invisible you will forget you even have it on. This is ideal for women of color who don't want the white residue that most sunscreens leave on deeper skin.
Laura Mercier Foundation Primer Protect Broad Spectrum
Laura Mercier's Foundation Primer feels completely weightless on the skin and provides intense protection from UVB rays. The oil-free gel formula is ideal for oily and blemish-prone skin. 
Advertisement – Continue Reading Below