[dp_demo_ad_fullx90]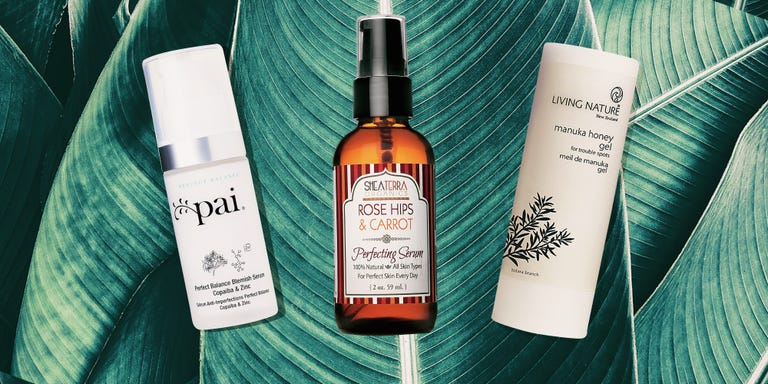 Courtesy
Can you cure acne without chemicals? It sounds appealing and, better yet, entirely possible.
"Natural products that help combat oiliness and even out your skins pH without clogging your pores are essential," says New York City based dermatologist Shereene Idriss.
I picked Idriss' brain to find out what exactly we should be looking for when it comes to natural products that fight acne. Idriss noted three key ingredients:"Jojoba oil is structurally so similar to your own sebum that when used topically, it tricks your oil glands into thinking they've produced enough oil, thereby shutting them down and resulting in a more matte complexion," explains Idriss.
Honey, both raw and unprocessed, contains potent enzymes with antioxidant and antibacterial properties that work to ward off breakouts. Idriss notes that certain types of honeys are suited for different issues. "Manuka honey is the go-to for the more serious skincare issues requiring antibacterial action, whereas elderflower honey is better suited to fight off allergic skin reactions," says Idriss. She adds that honey generally improves your skin by sealing in all that juicy moisture.
Lastly, zinc helps to regulate cell turnover which in turn slows oil production. Less oils means less breakouts. Now that you know what to look for, we compiled five natural acne fighting products to try. Clear skin ahead.
Advertisement – Continue Reading Below
1
H-Acne Formula Acne Treatment
amoils.com
The honey- based acne treatment is a great homeopathic alternative to Accutane or other prescription acne medications. Honey works to fight blackheads, whiteheads, and toxins by flushing the skin of impurities.  And with the natural (and therefore more gentle) formula, you won't have to worry about the dry flakes and rough patches that come with most heavy-duty treatments. 
Advertisement – Continue Reading Below
2
Herbivore True Blue Treatment
sephora.com
$29.00
While you won't find any of the three magic ingredients in this duo, you can expect reliable results. A two part system—a mask and a facial oil—uses a cornucopia of botanical extracts to balance, calm, and purify ruddy complexions. 
Advertisement – Continue Reading Below
3
Manuka Honey Gel
livingnature.com
$35.00
This honey gel is perfect for acne-prone skin and even works on scrapes and small burns since it's mean to rebuild and repair all manner of damaged skin.
Advertisement – Continue Reading Below
4
Rose Hips & Carrot Perfecting Serum
sheaterraorganics.com
$29.00
While vitamin-rich rosehip oil works to fade acne scars and skin discoloration, carrot seed oil helps stimulate cell growth. A natural way to reset the skin. 
Advertisement – Continue Reading Below
5
Pai Copaiba & Zinc Perfect Balance Blemish Serum
neimanmarcus.com
$78.00
Another Dr. Idriss pick! Unlike benzoyl peroxide and salicylic acid which are common in acne treatments, this natural serum utilizes zinc to calm blemishes without leaving flakey, dry spots. 
Advertisement – Continue Reading Below
Advertisement – Continue Reading Below