[dp_demo_ad_fullx90]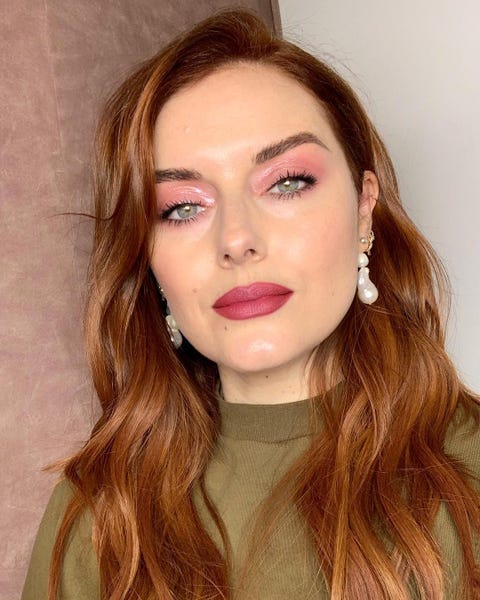 Instagram/@KatieJaneHughes
As much as I adore auburn-colored leaves, boot season, and a good aubergine lip, I can't help but hear the ominous dun-dun-dun sound effect when August rolls around. Seasonal sadness is definitely a thing, and I have a bad case of it. I mean, after a summer full of Fenty Beauty neon liners, Euphoria-themed eye makeup, sheer, lightweight foundation, and a bronzed-to-the-Gods glow, how on earth am I supposed to just jump back into the drama? I want my makeup to remain as blissful and carefree as Jules's makeup on Euphoria all winter long and according to makeup artist Katie Jane Hughes, who has worked with Rosie Huntington-Whiteley, Ashley Graham, and Elsa Hosk, all it takes are subtle tweaks to my makeup routine. Ahead, the makeup whisperer shares her tips on how to make your summer makeup work in the fall.
Tip #1: Focus on making your skin look expensive.

The first thing you notice when you look at Katie Jane Hughes is her glowing, dare I say it, moist skin. "The skin is always the first priority and the thing you should spend the longest on to look good, " she tells ELLE.com. "You want your skin to look expensive."
Your makeup should look effortless, not overdone and a good skincare routine is where it starts. Katie suggests adding peeling pads into your routine because they serve as chemical exfoliators and should be used on the spots where you want your makeup to the last the longest. "If you pay close attention to those areas and treat it, your makeup will last so much longer throughout the day," she adds.
Also, primers are bullshit. "Well, primers are bullshit if you don't prep the skin right," she says. "You want to moisturize the high points of your face—temples, cheekbones, down the nose, then chin, neck and chest—and then take it through the t-zone with whatever is left." Doing this puts less product on your t-zone, which gets oilier as you pack on more products. "I remember Sir John said that he doesn't put moisturizer on Beyoncé's skin for performances, which helps the makeup stay on longer. Game. Changer."
Tip #2: Manipulate your products to give you a radiant glow.
Glowing skin isn't exactly the makeup look for the fall season—most people love a good matte finish. But, Katie loves to keep your glow all year-round, just a little less "moist" in the winter. "I love to use a face oil or moisturizer with my foundation, something sheer and glowy everywhere and then something full coverage in the t-zone," she explains to me. "During the colder months, go a little more velvety on the face. This doesn't mean powdery or matte or super dry, it just means less wet-looking."
The star of Katie's makeup bag right now is Revlon's PhotoReady Candid Foundation, which Katie loves to use on star clients like Ashley Graham because it "gives you the right amount of coverage. It's very malleable so you can manipulate it the way you want or different parts of the face."
Tip #3: Play around with one color lids and graphic neon lines.
"What I love most about this summer's makeup trends are all the one-color lids and neon liners," Hughes says. While the Euphoria-obsessed have been adding a lot more color to their lids since the series premiered this summer, Hughes has always dabbled with color and her love of color doesn't change much in the fall.
"One-color lids are my favorite because it can kind of end up being a two-color ombre look due to the natural shadow we have on our eyes," she adds. "In the fall, you want to create a complementary tone story where you go with light eyes, dark lips or dark eyes, light lips."
Tip #4: Pair colorful eyes with deep, berry lips.
"Makeup is expressive and fun and playful. A pop of color on the eyes plus a berry lip is the unexpected look," Hughes says. "It's a fun take on the autumn makeup look because most people go deeper and dramatic in the fall."
Tip #5: Blush over bronze.
"If there's a blush or a bronze moment, I'm always going to go with blush," the makeup artist said. Why? Katie says blush is great for giving the face a fresh, instant lift, whereas bronzers can tend to be a little dramatic. "You want to bronze a touch, but put blush all over so the contrast could be fresh. One element has to be effortless and the other dramatic."
Katie doesn't use traditional blush pots all the time, though. Sometimes, lipsticks give a better glow and complement the skin better than powder blushes. "For lighter skin, I use Revlon's Lustrous Lipstick in Rise up Rose or deeper tones I go with Coffee Bean by warming it up on my fingertips and lightly pressing it into the skin," she says.