[dp_demo_ad_fullx90]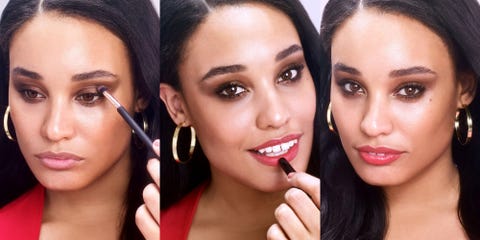 JASON ERIC HARDWICK
Summer is my season. I dream about her all year long and count down the days until I can trade in my ultra-moisturizing winter cream for highlighter, bronzer, and over-the-top glitter. So, when I decided to do a makeup look using only products from the aisles of my fave drugstore, I knew it had to be all about the ultimate summer glam. What I love about Walgreens is that it's easy to navigate the beauty section, eye up all my options, and choose the exact highlighter, glitter, shadow, lip, and liner I'm looking for. Pro tip: if you're confused about how to find your shade or what skincare is right for your complexion, tap one of their Beauty Consultants. They know everything. Here, I went for a smoky eye and a bold lip. Something that really stands out. Are you ready for the results?
The Glow
After a quick base of foundation, I jumped right in with Milani Baked Bronzer in Glow, swiping it along my cheekbones for definition. My trick for applying bronzer is to make a bit of a fish face so I can really see where to apply it on my cheekbones. Then, I trace the shape of the number three on the sides of my face by sweeping the brush just above my eyebrows, curving it under my cheekbones and then down along my jawline. I'll go back in and add more product where I see fit. The Milani Baked Bronzer did an incredible job of defining my features and chiseling my face.
Milani Baked Bronzer in Glow, $11
The Smudge
I wanted this look to be full of drama, like me, so I applied CoverGirl Perfect Point Plus Eye Pencil in Black Onyx in the most theatrical way I knew how. Instead of a defined line, I began doing dashes and dots near my lash line. I added a good amount of product to my lash line so that I started to look a bit racoon-like, but this was all part of the plan.
CoverGirl Perfect Point Plus Eye Pencil in Black Onyx, $7
The Smoke Out
Next, I diffused the pencil dots with a small eyeshadow brush for a smoky effect. I added Rimmel Magnif'Eyes Eye Contouring Palette in Blush to balance out the black smudgy shadow I'd created with the eye pencil, and then I blended them together in an upward motion. It really did work to accentuate my eye shape and color.
Rimmel Magnif'Eyes Eye Contouring Palette in Blush, $8
The Peachy Pout
A bold lip can make or break a look, but I was confident a peach pout would be perfect for my ultimate summer look. I quickly added "glam Southern belle" to my mental vision board and applied Soap & Glory Completely Balmy Lipstick in Peach Pout. It looked almost as if I had been sipping on strawberry cocktails all day at a very chic party (coincidentally, my primary plan for summer). Plus, it was a balmy lipstick so my lips didn't feel dry after.
Soap & Glory Completely Balmy Lipstick in Peach Pout, $12
The Dramatic Finish
I loved the full look. It was glam with a summer twist—and you can catch me rocking the peach lip all summer long.