[dp_demo_ad_fullx90]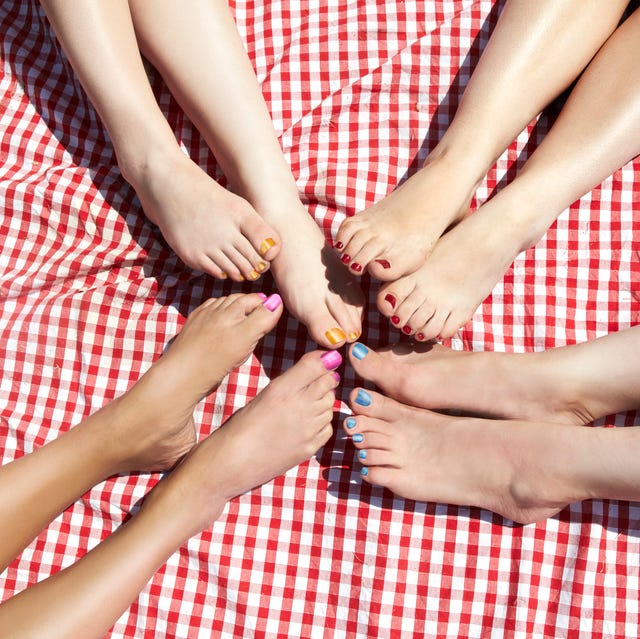 Paper Boat CreativeGetty Images
I'm all about self-love, right up until you move south of my ankles. You'll never catch me in sandals, or open-toed shoes of any kind, because I. Don't. Like. Feet. The reason why? Bumpy callouses, dry patches, the way they look wrinkly and weird. But in 90 degree heat, wearing sneakers every day can't be done. The only thing worse than dry, calloused feet is sweaty, dry, calloused feet. But the only way you'll catch me bearing my toes to the world is if, one to two weeks prior to their escape, I douse them in exfoliating liquid to that years of damage peel off, like a snake shedding its old, gross skin.
Even if you don't have a foot phobia like me, odds are your toes need some care and attention. Just from the day-to-day wear and tear, our feet go through a lot, and they need products just like the rest of our bodies do. The below 16 foot masks do it all: They exfoliate dead skin, intensely hydrate away that awful dry feeling, and they prep your toes for anything you can throw at it. And once you're done giving them the royal treatment? A 10/10 score on Wikifeet, guaranteed.
Advertisement – Continue Reading Below
1
Original Foot Peel Exfoliator
This delightful mask will make your feet shed like a snake, revealing baby soft skin. 
2
Ultra Hydrating Foot Peel Mask
Dr. Scholl's
amazon.com
$8.97
Slip on these booties for an ultra hydrating experience that will make your feet so beautiful you might even show them in the daylight.
3
Reboot Revitalizing Foot Peel
Barefoot Scientist
ulta.com
$14.00
For sensitive feet that still want a revamp, these booties gently exfoliate but still get you that satisfying shedding skin.
4
Clean Foot Mask
Sephora Collection
sephora.com
$5.00
Give your toes some loving with this mask that hydrates, soothes, and gives your feet some intense T.L.C.
5
Foot Peel Mask
Get rid of all that nasty dead skin that accumulates on your soles with these masking booties that will remove years of built-up skin.
6
PoshPeel Pedi Cure Intensive Foot Peel Mask Treatment
Patchology
amazon.com
$20.00
For the ultimate summer pedicure, use this peel mask to revive your soles and reveal smooth, soft feet.
7
Fruit Acid Smoothing Foot Peel
boscia
dermstore.com
$18.00
It's sandal weather, so give your feet a makeover with these exfoliating feet masks.
8
Watermelon & Citrus Foot Peel
These foot peel masks smell like summer, and get your toes ready for warm weather by encouraging your feet to shed dead skin.
9
Repairing CICA Moisturizing Foot Mask with Oat
Pour yourself a glass of wine and slip on these foot masks for a night of self-care, head to toe.
10
Foot Peel Mask
DERMORA
amazon.com
$29.99
Get rid of annoying callouses with these foot peels that will let you play sock-less footsy for the first time in your life.
11
Soft & Smooth Gentle Peeling Foot Mask
Earth Therapeutics
ulta.com
$12.00
Leave on these masks for up to 90 minutes and revel in your newborn toes.
12
Foot Peel Mask
Lavinso
amazon.com
$27.95
Once these peels have done their magic you'll wonder how you managed to have that much dead skin on your feet all this time.
13
Foot Peeling Shoes
To cure scaly feet, these moisturizing booties will get you back the feet you had before you discovered high heels.
14
Thirsty Feet Deep Moisture Foot Mask
NAILS.INC
target.com
$4.99
Toes can be thirsty too! Quench them with these hydrating masks.
15
Foot Peel Mask
NIFEISHI
amazon.com
$12.99
Get the best pedicure of your life with these peel masks that reverse your toe's age by at least a few years.
16
Avo Good Day Nourishing and Hydrating Foot Mask
Holler and Glow
target.com
$3.99
You deep condition your hair, so give your feet the same lovin'. These masks will get them to their best shape so you can walk around barefoot every single day.
This content is created and maintained by a third party, and imported onto this page to help users provide their email addresses. You may be able to find more information about this and similar content at piano.io
Advertisement – Continue Reading Below