[dp_demo_ad_fullx90]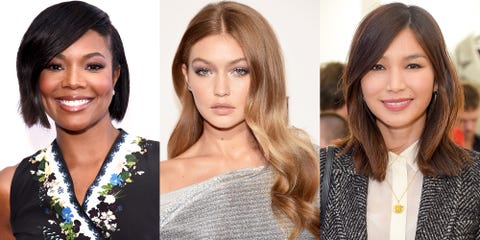 Getty Images
As the seasons change and weather warms, switching up your whole beauty routine is a must—especially when it comes to your hair color. Look to celebrities for guidance, but consider practical advice from pros like New York colorist Stephanie Brown. Find a new look that can be both trendy and flattering, eye-catching and manageable, ahead.
Advertisement – Continue Reading Below
Pretty Pastels
The look: Brown predicts pastels or faded pastels will make a comeback, but they will be more powdery and white. Think: Lady Gaga at the Golden Globes or the people's Kardashian, Khloé. "Soft blues and pinks will be seen a lot," says Brown. "Make sure there are no yellow tones in your hair otherwise you'll lose the powdery look of these pastel colors."
Ask your stylist…for the best shampoo and conditioner recommendations to maintain the color.
Strawberry Honey
The look: "It's a great cross between red and blonde without taking the jump to commit to either color completely," explains Brown. "Reds usually work best with neutral or warmer undertones, and since this is a warmer color, it doesn't always work for olive or cooler undertones."
Ask your stylist…for a strawberry blonde base color with honey highlights.
Rich Brunette
The look: Those with dark black hair can move more toward a caramel ombre. "This is still very dark but will have fine and very subtle (so you don't see them) baby lights to an ombré," says Brown. "You want the highlights to be subtle because you don't want them to end up looking red or brassy—you want them on the neutral side."
Ask your stylist…for slightly lighter color at the ends of the hair.
Dusty Copper
The look: This shade is ideal for redheads who are a little darker with the olive and cooler undertones. This color is a mixture of copper and neutral tones so you don't have that orange feel when you step out in the sun—just a rich silky warm color.
Ask your stylist… for a copper base but a mixture of neutral and very subtle highlights and lowlights, in some cases you won't even need the highlights since the lowlights will be enough.
Beach Brown
The look: "Like beige blonde, it will be very beachy and for those with cooler undertones," explains Brown. "But for warmer undertones, you can always make those highlights slightly warmer without affecting the overall look."
Ask your stylist…for an all over neutral to ashy light brown with subtle finer highlights towards the ends of your hair.
Send Nudes
The look: Think of a darker blonde or beige color that's a lot lower maintenance than pastel or baby blonde. "You'll have a few bright pieces around your face and throughout your hair but a slightly darker neutral base," says Brown. "It's a rooted blonde or a higher ombré, very beachy looking."
Ask your stylist…for a rooted darker blonde and bring pictures so you can show the placement that you want.
Advertisement – Continue Reading Below