[dp_demo_ad_fullx90]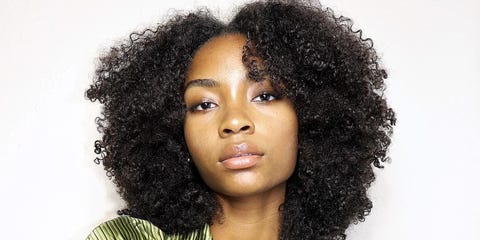 Instagram/@jaichill_
There are just certain things you can't leave the house without: keys, cell phone, money, shoes, etc. For those with natural hair, moisture is at the top of the list. Dousing your mane with the right mix of essential oils and conditioning ingredients can make all the difference for dry, brittle strands. Trust me, I know. My low porosity, 4c coils have a hard time absorbing moisture, so oftentimes I find myself employing the LOC Method: a three-step routine to add moisture back into my hair using a leave in conditioner, oil, and cream.
No LOC routine is complete without the first ingredient, a nourishing leave-in conditioner that rehydrates and shields your hair from the brisk winds, rough towels, harsh ingredients, and touchy-feely hands it encounters daily (cue: Solange). Then comes the jojoba and almond oils, and twisting soufflés—but let's not get ahead of ourselves just yet. Ahead, shop the eight best moisturizers you'll want your hair will drink up, stat.
Advertisement – Continue Reading Below
Shea Yogurt Hair Moisturizer
Alikay Naturals
target.com
$11.99
All of your favorite hair care ingredients—shea butter, sweet almond oil, argan oil, coconut oil and more—are blended to perfection and topped off with a yummy, citrus scent. 
Blueberry & Coconut Hair Milk
Everything you ever needed to treat your hair is in this bottle. Formulated with coconut milk and blueberry extract, this hair milk repairs, moisturizes, softens, detangles…should I go on? 
Shea Butter & Pure Coconut Oil Leave-In Conditioner
Suave Professionals for Natural Hair
target.com
$4.99
Suave Professionals collaborated with over 5,000 women to deliver a moisture rich collection for women with natural curls, coils, and waves. The Nourish and Strengthen Leave-In Conditioner feels like butter when applied to hair. The deeply nourishing formula, made of hair from root to tip thanks to its star ingredient, shea butter. 
Moisture Miracle Coconut Oil & Baobab Oil Leave-In Cream
African Pride
shop.naturallycurly.com
$5.49
For just $5, African Pride whips up a sweet cocktail of five (!) essential oils—coconut, argan, baobab, olive, and grapeseed oil—to create a strong barrier to repair weak, limp strands. 
Kalahari Smoothie Leave-In
Curls Dynasty
amazon.com
$13.09
This thick and silky smooth concoction provides enough slip to rake through your hair knot-free and penetrates deep into the hair shaft to make it easier to detangle and style. 
Silk Buttercream Curl Quencher
Nancy's Kitchen Products
nancys-kitchen-products-llc.myshopify.com
$18.00
Hand-mixed with avocado butter, olive oil, and aloe vera, this mixtures wards off dryness and frizz while adding luster and softness. The multipurpose cream can be used as a deep treatment following your normal cleansing routine, as a styling product, and a daily moisturizer. 
Avocado Moisturizing Hair Milk
Mielle Organics
target.com
$12.99
Your journey to soft and supple hair is missing this nourishing, milk-like cream that melts into your hair like butter. It's lightweight, so it doesn't leave any product buildup or weigh down your hair. 
Double Butter Rich Daily Moisturizer
As I Am
amazon.com
$13.42
As I Am's Coconut CoWash is every naturalista's holy grail but the DoubleButter Cream is coming for the top spot. Enriched with the finest butters (shea and cocoa) and a slew of essential oils, this blend helps to retain moisture and leaves hair soft for days. 
Advertisement – Continue Reading Below