[dp_demo_ad_fullx90]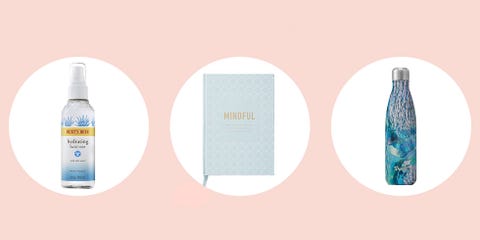 Courtesy Burt's Bees
Raise your hand if you've ever come to work after a trip, turned off your out-of-office message, then said to your cubicle neighbor: "I need a vacation from my vacation!" Yep, we've been there, too. The solution to PTFS (Post-Trip Fatigue Syndrome) just might be opting for a wellness retreat instead. These relaxing getaways (which have become the most popular form of tourism, according to the Global Wellness Institute) boost your energy instead of zapping it with activities to help you de-stress and kick your Instagram addiction, if only for a week.
We can't reach through your screen and book your trip for you, but we can give you advice on what to pack. And staycationers, take note: Everything here works just as well during a self-care weekend at home.
Advertisement – Continue Reading Below
1
A Skin Refresher
Burt's Bees
burtsbees.com
$12.99
Stash this lightweight, aloe-infused face spray in your tote bag for a quick blast of moisture whenever, wherever. Bust it out in the middle of a nature hike or after an intense yoga sesh.
2
A Luxe Eye Mask
Slip
nordstrom.com
$50.00
Use this high-quality silk mask to get some shut-eye while you're traveling, and to make your nights there even more restful. It's nice to slip on before listening to a meditation app, too.
3
A Chic Water Bottle
S'well
nordstrom.com
$35.00
Healthy beverages are more fun to drink when you're sipping them from a pretty, refillable bottle. This one is insulated to keep your cucumber water cold and your green tea hot for hours. Post-retreat, use it to stay hydrated at work.
4
Double-Duty Makeup
Burt's Bees
burtsbees.com
$12.99
No need for a ton of makeup during an off-the-grid trip, but if you bring one thing, make it this creamy multitasker, made with nourishing jojoba, sunflower, and coconut oils. Swipe it over your lips and cheeks for natural-looking color.
5
A Comfy Layer
Terez
neimanmarcus.com
$55.00
You'll need something to throw on in between fitness classes or for a little extra warmth during a stroll outside. This soft top is also cute enough to wear with jeans to a casual brunch once you're back in the real world.
6
A Detoxifying Mask
Burt's Bees
burtsbees.com
$14.99
When you're unwinding in your room, use some of that me-time to pamper your skin. Bring along this charcoal and superfruit mask to deep clean your complexion and unleash the glowiness within. Consider it self-care in a tube. 
7
An Inspiring Journal
kikki.K
anthropologie.com
$29.95
Document all the feels, goals, and ideas that come to mind during your transformative trip (and in the months afterward) in this pretty journal that's designed to help you focus and reflect.
Advertisement – Continue Reading Below