[dp_demo_ad_fullx90]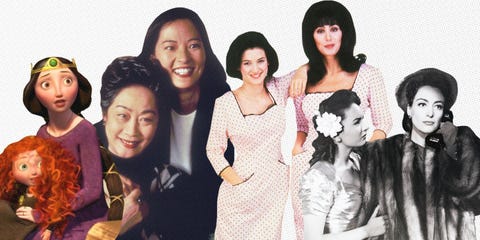 SHUTTERSTOCK GETTY + YOUTUBE
A Mother's Day movie marathon doesn't have to involve the word "miracles," Comic Sans titles, or Mommie Dearest on loop. From iconic on-screen moms to IRL mom-and-daughter acting teams (Judy Garland and Liza Minnelli, we're looking at you), here are 40 of the best films about moms. —Melissa Locker, India Pougher, and Adam Schubak
Akeelah and the Bee
Akeelah (Keke Palmer) can spell, but the thing is no one seems to want her to. She's afraid of looking like a nerd at school, her classmates tease her, and her own mother (Angela Bassett), a young widow, just wants her to keep her head down and do her homework. That all changes when Dr. Joshua Larabee (Laurence Fishburne), still grieving over the loss of his daughter, catches Akeelah in action and decides to act as her spelling coach. Her journey towards the national competition helps Akeelah and the broken grownups around her H-E-A-L.
Bend It Like Beckham (2002)
When conservative Indian parents raise a modern, soccer-loving girl in England, there are bound to be growing pains for everyone. Jess Bhamra (Parminder Nagra) loves soccer and David Beckham, but her parents won't let her play, even though she's really pretty good at it. As the Fresh Prince said, "Parents just don't understand." Even though her mother would prefer that Jess stay home and learn how to make perfectly round chapatis, she sneaks around to be on a team with her friend Jules Paxton (Keira Knightley). Lying to your parents never goes well, though, and things get complicated quickly, especially when Jess develops feelings for her coach (Jonathan Rhys Meyers).
Brave (2012)
In this animated adventure, spunky Scottish princess Merida (Kelly MacDonald) becomes the best archer in the kingdom. But she and her mother Queen Elinor (Emma Thompson) butt heads when it comes time for Merida to choose a husband. Merida flees to the woods, where a magic spell turns her mother into a bear. It's up to the determined redhead to save her mother and, like in life (well, sometimes), the problems bring mother and daughter closer than ever. 
Easy A (2010)
Who knew Nathaniel Hawthorne's syllabus stalwart The Scarlet Letter could be reimagined as a laugh-out-loud funny teen drama? The film stars Emma Stone as Olive, a high-school student with a "foolproof" popularity plan that quickly spins out of control. Olive just goes with the flow, though, and encourages the racy rumors that are flying around the school. While her teacher and guidance counselor are concerned, Olive's parents (Stanley Tucci and Patricia Clarkson) trust their daughter, have her back, and are there to offer good advice when she needs it.
Hannah and Her Sisters (1986)
Woody Allen's film is a tragi-comic meditation on family and the relationships that define us. Mia Farrow stars as Hannah, whose husband becomes smitten with her sister Lee (Barbara Hershey); their other sister, Holly (Dianne Wiest), is a walking one-woman show. The three women clearly inherited their dramatic streak from their parents—their mother is played by Farrow's real life mom Maureen O'Sullivan—an aging show-business couple with a long, challenging marital past.
In the Good Old Summertime (1949)
One of our favorite holiday films, Ernst Lubitsch's The Shop Around the Corner, got a musical makeover: In the Good Old Summertime. The film stars Judy Garland as a saleswoman in a music store who doesn't realize that her obnoxious, antagonistic co-worker (Van Johnson) is the penpal to whom she writes heartfelt letters. But Summertime is also notable because it marked the on-screen debut of Garland's daughter, Liza Minnelli, who shows up in the film's final scene.
The Joy Luck Club (1993)
Based on Amy Tan's best-selling novel of the same name, this film tells the story of four women who were born in China but made their way to America. As they adapt to their new home, they inevitably make some tough decisions—and some mistakes—as they raise daughters also caught between two cultures. The narrator is June (Ming-Na Wen), who heads to China after her mother's death. As she and her friends look back at their mothers' lives, the difference between their worlds becomes more and more clear. The result will make you bawl.
Juno (2007)
When whip-smart high school junior Juno MacGuff (Ellen Page) finds out she's pregnant after a brief fling with her friend Paulie Bleeker (Michael Cera), she decides to go through with the pregnancy and put the kid up for adoption. She sets out to find the perfect adoptive parents, and Vanessa and Mark Loring seem to fit the bill (Jennifer Garner and Jason Bateman). As her pregnancy progresses, so does Juno's complicated coming of age. As she says when her dad asks what she's up to: "Oh, just out dealing with things way beyond my maturity level."
Knocked Up (2007)
Katherine Heigl stars as Alison, a woman who spends one night with Ben (Seth Rogen) and ends up pregnant. She decides to keep the baby and the man, but only if she can get him to grow up—forgetting that changing a person is downright impossible. The film also features the ageless Paul Rudd, as the on-screen husband to the always lovely Leslie Mann; her children, Iris and Maude Apatow, play their kids. The Apatows also played Mann's kids in 2009's Funny People and 2012's This Is 40—and all three were directed by their father, Judd Apatow.
Mermaids (1989)
When your mother is a wildcard with a string of failed love affairs, your preferred mode of rebellion might look like behavior usually found in a nunnery. Cher plays the vibrant and finger-food-loving Mrs. Flax, a force of nature in the lives of everyone around her, but especially those of her daughters, Charlotte (Winona Ryder) and Kate (Christina Ricci). While Kate finds respite in the swimming pool, Charlotte's recourse is to seek out chastity and redemption, made easier when the family moves next door to a convent. Love, mishaps, and near tragedy keep the characters—and the audience—on their toes. 
Mildred Pierce (1945)
It's easy to feel bad for Mildred Pierce (Joan Crawford in an Oscar-winning performance). Her husband left her for another woman, forcing her to raise two daughters on her own. She rises to the challenge, doing whatever it takes to succeed in the restaurant business and provide her eldest daughter, Veda (Ann Blyth), with the life she desires. For bonus points, watch the HBO version of this maternal drama, which has Kate Winslet in the title role. 
Postcards From the Edge (1990)
Meryl Streep stars as Suzanne Vale, an up-and-coming star whose career ground to a halt due to drug addiction. After a stint in rehab, Suzanne ends up with an appointed caretaker: her mother, Doris Mann (Shirley MacLaine). The film was adapted by Carrie Fisher from her own novel, and wrestles with the complicated but loving relationship between an actress and her movie star mother. While many viewers drew parallels between the characters and Fisher's real-life relationship with her own mother, Debbie Reynolds, Fisher shrugged it all off, admitting to Entertainment Weekly, "I wrote about a mother actress and a daughter actress. I'm not shocked that people think it's about me and my mother." 
Rambling Rose (1991)
amazon.com
Diane Ladd and her daughter Laura Dern both earned Oscar nominations for their work in this Southern charmer. Directed by Martha Coolidge, the film is set in 1935 and stars Dern as a teenage girl with a string of men in her past, at a time when that was simply not done. She is invited to live with a nice, upright family helmed by Robert Duvall and Ladd's free-flowing Southern belle. Ladd and Dern have appeared in numerous other films together, including Wild at Heart and Citizen Ruth.
Ricki and the Flash (2015)
IRL mother and daughter Meryl Streep and Mamie Gummer star in Diablo Cody and Jonathan Demme's Ricki and the Flash. Streep stars as Ricki Rendazzo, a mother of three who left her kids behind so she could follow her rock n' roll dreams. Gummer plays Ricki's daughter, Julie, who is angry and disappointed that her mother opted for a life on the road instead of life at home, and isn't quite ready to make amends. This isn't the first time the two have shared the screen—Gummer made her screen debut with Streep in the 1986 Nora Ephron film Heartburn.
Secrets & Lies (1996)
amazon.com
Marianne Jean-Baptiste stars as Hortense, a young black woman who decides to look up her birth mother (Brenda Blethyn), and is shocked to learn that she is white. In a series of long, meditative scenes, the two strike up a kinship, each finding what they need in the other. They use the strength of their newfound relationship to dive into their family's past, divulging the titular secrets and lies that mar their family tree. Written and directed by Mike Leigh, the film went on to be nominated for several Oscars. 
Soul Food (1997)
Soul Food follows the diverse and divergent lives of the Josephs, a large African American family living in Chicago, who gather on Sundays for matriarch Big Mama Joe's (Irma P. Hall) huge meals. When Big Mama gets sick, a feud between two sisters (Vivica A. Fox and Vanessa Williams) begins to unravel the family's bonds. Luckily, Mama's young grandson Ahmad (Brandon Hammond) has a plan to bring the family back together. 
Steel Magnolias (1989)
The beauty shop is a sacred space for many women, particularly those in the small Southern town where Steel Magnolias is set; the friendships formed there transcend age and class, and last a lifetime. Beauty shop owner Truvy (Dolly Parton) and her work-in-progress assistant Annelle (Daryl Hannah) help keep Clairee (Olympia Dukakis), town grouch Ouiser (Shirley MacLaine), and M'Lynn (Sally Field) and her daughter Shelby (Julia Roberts) beautiful while they help each other through life's ups and downs. When Shelby gets sick, her beauty shop friends support M'Lynn as she faces down every mother's nightmare. The sharply written and eminently quotable film will have viewers going from gut-wrenching sorrow to face-cracking laughter in seconds. 
Sylvia (2003)
amazon.com
In Sylvia, Gwyneth Paltrow stars as poet and author Sylvia Plath, who falls in love with the dashing Ted Hughes (Daniel Craig). Hughes falls for her, too, despite warnings from Plath's mother (played by Paltrow's mother, Blythe Danner), that Sylvia had tried to kill herself and might do again. Sadly, mother did know best this time; any student of literature can tell you how the story ends. Despite the painful subject matter, the film's stellar cast and poetic structure ease viewers through—even those still haunted by The Bell Jar.
Terminator 2: Judgment Day (1991)
amazon.com
While the Terminator action franchise might not seem like traditional Mother's Day fare, maternal protectiveness is practically the engine of the second installment. Sarah Connor (Linda Hamilton) is a bad-ass single mother trying to protect her rebellious teenaged son, John (Edward Furlong), from time-traveling robots who want to kill him before he saves the world. It's a hard life, but probably easier than trying to explain who his father is. This time around, Arnold Schwarzenegger's T-800 is one of the good guys, but he's not nearly as frightening as Hamilton's ticked-off mom.
Terms of Endearment (1983)
Grab the tissues before you hit play on this classic tearjerker. Shirley MacLaine stars as Aurora, a first-generation helicopter mom to her daughter Emma (Debra Winger). Over the course of 30 years, Emma and Aurora battle about anything and everything, but their arguments don't interfere with their deep love and attachment to each other. The pairing makes for one of the most memorable mother-daughter relationships on film, and it was no surprise when MacLaine won an Oscar for her performance as a fierce mother who would do anything for her child.
The Kids Are All Right (2010)
Jules (Julianne Moore) and Nic (Annette Bening) are taken by surprise when their teenaged kids seek out the sperm donor that their moms used to have them. The kids (Mia Wasikowska and Josh Hutcherson) strike up a relationship with their biological father (Mark Ruffalo) and invite him into their lives. The resulting blended family comes with all sorts of complications—all unpacked with warmth, humor, and sensitivity by director Lisa Cholodenko.
The Piano (1993)
Jane Campion both wrote and directed The Piano, and the result is a starkly tender tale of a mother doing the best she can for her daughter despite many challenges. Ada (Holly Hunter) is a mute pianist raising a young daughter, Flora (Anna Paquin). Ada's family marries her off to a gruff farmer (Sam Neill) who lives in a remote corner of New Zealand. Only Flora can truly communicate with her mother, whose sole form of expression is playing the piano, and it's that titular instrument which leads to tragedy. 
Thirteen (2003)
The teen years aren't typically a high point for mothers and daughters, but they usually don't get as low as they do in Catherine Hardwicke's Thirteen. Melanie (Holly Hunter) is a single mother struggling to make ends meet with her in-home haircutting business and a seemingly endless stream of friends who need assistance. She's so busy that she doesn't notice how bad an influence her daughter Tracy's (Evan Rachel Wood) new best friend (Nikki Reed, who co-wrote the screenplay) is—and that the girls are using drugs and self-harming. 
Tiny Furniture (2010)
Before Girls, Lena Dunham proved her mettle by writing, directing, and starring in Tiny Furniture. While the film wasn't exactly autobiographical, it starred Dunham as Aura, a recent college grad stumbling into adulthood. As she finds her way through a post-college daze, Aura moves back in with her artist mother (played by Dunham's mom, artist Laurie Simmons) and her sister, Grace (Dunham's sibling, Grace Dunham). Her family supports Aura as she struggles with abominable dates and an exhausting relationship with her friend Charlotte, played by Jemima Kirke, a.k.a. Jessa in Girls. 
Troop Beverly Hills (1989)
When a Beverly Hills socialite realizes that her daughter (a pint-sized Jenny Lewis) is slipping away from her, she does the only thing she can think of—takes over her Wilderness Girls troop. Phyllis Nefler (Shelley Long) may not be the traditional scout leader, but she proves that determination, gumption, and a firm belief that good tailoring cannot be underestimated can take a girl from Rodeo Drive to the camp jamboree in style. Remember: Never go to Reno. 
Life As We Know It (2010)
amazon.com
After tragedy strikes, Holly (Katherine Heigl) and Eric (Josh Duhamel) become the guardians of their friends' baby girl. The two tried to hit it off in the past, but things didn't end well. Now they must learn to ignore their differences and move in together for the well-being of their goddaughter. Learning to become parents does not prove easy and the two are forced to reconsider their paths as they slowly fall in love.
Lady Bird (2017)
This Oscar-nominated coming-of-age story tells the tale of a daughter struggling to find common ground with her mother (Laurie Metcalf) as she prepares to graduate high school and find her place in the world. Lady Bird (Saoirse Ronan) is desperate to attend college across the country after high school. And in the process of planning, she goes through a tumultuous several months with her mother.
The Big Sick (2017)
After a one-night stand, Pakistani comedian Kumail (Kumail Nanjiani) hides his relationship with Emily (Zoe Kazan) from his traditional family. His parents are determined to set up an arranged marriage, but he's not interested. When Emily is hospitalized with a serious illness after the two split, he makes an effort to care for her and meets her skeptical parents in the process.
The Perfect Man (2005)
Don't let the title fool you–this oft forgotten rom-com is about more than just finding a guy. After years of dating, single mom and baker Jean (Heather Locklear) packs up her two daughters and moves to New York City in one last attempt to find love. Tired of moving every time her mom has a broken heart, Holly (Hilary Duff) poses as a secret admirer with the help of a handsome dating expert played by Chris Noth (aka Big from Sex and the City). As Holly tries to keep up the charade, Jean finds a deeper bond with her daughters.
The Parent Trap (1998)
An unlikely duo, Hallie and Annie (Lindsay Lohan) discover they're actually twins separated at birth in this classic '90s film. After meeting at summer camp, the two devise a top secret plan to swap places and meet their parents who divorced years before, forcing them to reunite in the process. Hallie is desperate to meet their mother, Elizabeth (Natasha Richardson), and Annie can't wait to meet their dad, Nick (Dennis Quaid). The two soon realize their parents may not be as ready for a family reunion as they are, and they work together to bring down Nick's new fiancé, all while bonding with the mom and dad they always wanted.
Room (2015)
Based on Emma Donoghue's novel of the same name, this Oscar-winning film from 2015 shows a mother's devotion to her son and her desire to make his life better; the only thing is, they're captives. A pre–Captain Marvel Brie Larson conveys her character's desperation with a dramatic force that turned this film into her breakout.
Mother (1996)
No, not the Jennifer Lawrence movie. This 1996 Albert Brooks comedy follows an adult writer who moves back in with his mom after a divorce. So far, so whatever, but: The titular mother is played by Debbie Reynolds.
Freaky Friday (2003)
It's all about taking a walk in someone else's shoes—or body—to get a deeper understanding of their experience. In this early-aughts throwback, strait-laced mom Tess (Jamie Lee Curtis) and her rebellious daughter Anna (Lindsay Lohan) are having difficulty seeing eye to eye until a magical switcheroo helps them gain some perspective. 
Riding in Cars With Boys (2001)
Drew Barrymore stars in this adaptation of Beverly Donofrio's memoir about becoming a mother at 15. You'll laugh; you'll cry. You'll immediately want to call your own mom and say "Thank you…so much."
Real Women Have Curves (2002)
Based on a play by Josefina López, Real Women Have Curves follows a young first-generation Mexican-American girl coming of age and struggling to find her path while working with her mother in a sewing factory. America Ferrera is winning as the spiky, tender Ana Garcia.
Serial Mom (1994)
It's Mother's Day—with a John Waters twist. Kathleen Turner plays a matriarch willing to do whatever it takes to keep her family happy. Even murder is on the table when it comes to keeping her home in order.
Grey Gardens (1975)
This is definitely not an aspirational story. This 1975 documentary by Albert and David Maysles follows the lives of Jackie Kennedy's reclusive relatives Edith "Big Edie" Ewing Bouvier Beale and Edith "Little Edie" Bouvier Beale. The mother–daughter duo make for fascinating subjects who people still talk about over 40 years after the film. There's also a film starring Drew Barrymore and Jessica Lange.
Lion (2016)
Dev Patel plays Saroo Brierley, a man searching for his family 25 years after accidentally getting on a train and losing them. His relationship with adoptive mother Sue (Nicole Kidman) is a central focus of the story, and will give you all the feels—all the more because it's a true story.
The Guilt Trip (2013)
Seth Rogen and Barbra Streisand co-star in this road comedy about a mother who tags along on her son's cross-country business trip. Familial tensions abound, but over the course of the adventure, they start to see each other in a new light and form a stronger bond than ever before.
Crazy Rich Asians (2018)
Yes, this is a super-fun, super-glamorous romantic comedy about Rachel Chu (Constance Wu), a woman who discovers her boyfriend is actually super rich, but at its heart are the bond between a demanding mother (Michelle Yeoh) and her son (Henry Golding), and the warmth and understanding between Rachel and her own mom (Tan Kheng Hua).