[dp_demo_ad_fullx90]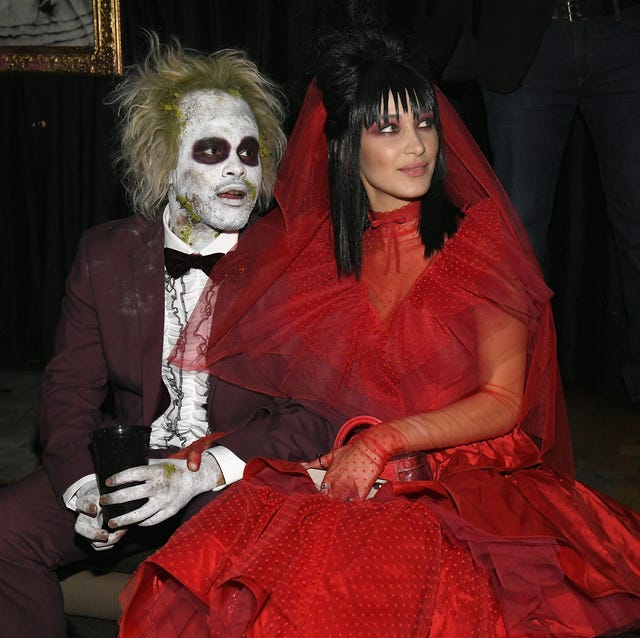 Craig BarrittGetty Images
Every October, we wait to see which celeb duos will put the most effort into delivering an epic Halloween couple costume. Thankfully, we're never disappointed. From Cole and Lili to Chrissy Teigen and John Legend, these celebrity couples offer the best costume inspo out there.
1 of 85
Maya Stepper and Mikkel Gregers Jensen
As Angelina Jolie and Billy Bob Thornton on a 2000 red carpet.
2 of 85
Stephen Amell and Cassandra Jean
3 of 85
Molly Sims and Scott Stuber
As characters from I Dream of Jeannie.
4 of 85
Rande Gerber and Cindy Crawford
5 of 85
Brian Keys and Hunter McGrady
As Prince Eric and Ariel from The Little Mermaid.
6 of 85
Kevin Undergaro and Maria Menounos
As retro McDonald's employees.
7 of 85
Miley Cyrus and Cody Simpson
As Billy Idol and Perri Lister.
8 of 85
Heidi Klum and Tom Kaulitz
As a bloodied astronaut and alien.
9 of 85
Neil Patrick Harris and David Burtka
As Mary Kate and Ashley Olsen.
10 of 85
Antoni Porowski and Kevin Harrington
As Blockbuster employees back from the dead.
11 of 85
Barbara Palvin and Dylan Sprouse
As characters from the anime film Princess Mononoke.
12 of 85
Ice-T and Coco Austin
As a character from The Purge: Election Year and '90s Madonna.
14 of 85
Sofia Richie and Scott Disick
As vintage Barbie and Ken dolls.
15 of 85
Jesse Tyler Ferguson and Justin Mikita
As Finneas O'Connell and Billie Eilish.
16 of 85
Dax Shepard and Kristen Bell
As Santa Claus and Mrs. Claus.
17 of 85
Freddie Prinze Jr. and Sarah Michelle Gellar
As Doc Brown and Marty McFly from Back to the Future.
18 of 85
Maya Erskine and Michael Angarano
As Yoko Ono and John Lennon.
19 of 85
Emily Ratajkowski and Sebastian Bear-McClard
As Carmela and Tony from The Sopranos.
20 of 85
Ciara and Russell Wilson
As Beyoncé and Jay-Z in the "APES**T" music video.
22 of 85
Evan Peters and Halsey
As a member of Insane Clown Posse and Marilyn Manson.
23 of 85
Jessica Biel and Justin Timberlake
As NSYNC-era Justin Timberlake.
24 of 85
Nicki Minaj and Kenneth Petty
As Harley Quinn and the Joker.
25 of 85
Gwyneth Paltrow and Brad Falchuk
Ally and Jackson Maine from 2018's A Star Is Born.
26 of 85
Joe Jonas and Sophie Turner
As Gomez and Morticia Addams.
27 of 85
The Weeknd and Bella Hadid
As Beetlejuice and Lydia Deetz.
28 of 85
Jessica Simpson and Eric Johnson
As Christie Brinkley and Clark Griswold.
29 of 85
Dylan Sprouse and Barbara Palvin
As Future Trunks from Dragon Ball Z and Gaara from Naturo.
30 of 85
Lauren Miller and Seth Rogen
Advertisement – Continue Reading Below
This content is created and maintained by a third party, and imported onto this page to help users provide their email addresses. You may be able to find more information about this and similar content at piano.io