[dp_demo_ad_fullx90]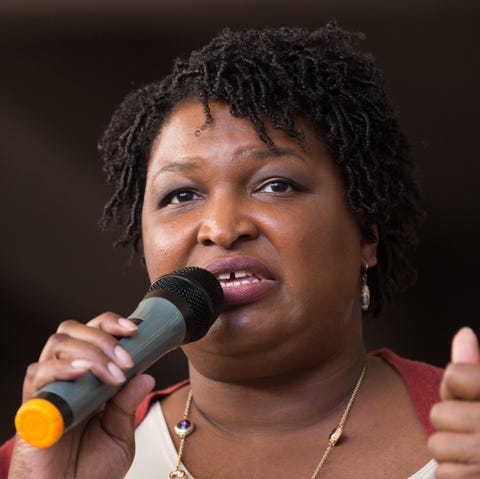 Getty ImagesJessica McGowan
With the midterm elections just hours away, some candidates have found themselves at the receiving end of openly racist attacks, including Georgia's democratic gubernatorial candidate, Stacey Abrams.
Abrams is currently running for governor in Georgia, and if she were to win, she would not only be the first female governor in the state, but the first black female governor in the nation. And in the past week, she's had celebrities like Will Ferrell and Oprah Winfrey campaigning in Georgia on her behalf.
Advertisement – Continue Reading Below
But that hasn't stopped the racist attacks from coming. According to the Washington Post, there's a new robo-call going out to voters in Georgia targeting Abrams and her campaign. The call has a voice impersonating Winfrey and it says, "This is the magical Negro, Oprah Winfrey, asking you to make my fellow Negress, Stacey Abrams, the governor of Georgia. Years ago the Jews who own the American media saw something in me—the ability to trick dumb white women into thinking I was like them. And to do, read and think what I told them to."
The call goes on to say, "I see that same potential in Stacey Abrams. Where others see a poor man's Aunt Jemima, I see someone white women can be tricked into voting for—especially the fat ones." The Post reports that the call was made by an anti-Semitic video podcasting website.
In an emailed statement to The Hill, Abram's opponent, Secretary of State Brian Kemp, called the recording "racist," "vile," and "disgusting."
However, Abram's spokesperson Abigail Collazo then responded in a statement, saying, "Brian Kemp has only now suddenly decided to find a conscience as polls are tightening and Georgia voters are making it clear that they reject the kind of hate he and his allies have been spewing around the state."
Thankfully, there's one incredibly easy way to show your own disdain for overtly racist rhetoric: Head to the polls on Nov. 6th and vote white supremacists out.