[dp_demo_ad_fullx90]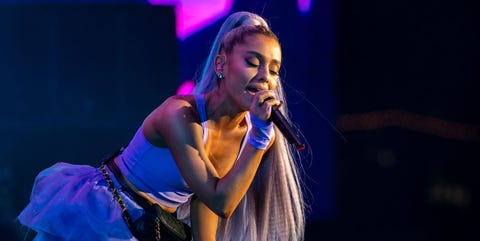 Getty ImagesChristopher Polk
Ariana Grande's ex-boyfriend Mac Miller died from an apparent overdose in September of this year, devastating family, friends, fans, and Grande alike. Two months after his death, Grande is feeling grateful for the time she spent with Miller before his passing, sharing a sweet Thanksgiving tribute to the late rapper on Instagram.
Advertisement – Continue Reading Below
Grande shared an image from her Facebook memories of her and Miller on Thanksgiving last year. She posted the image—which appears to show Miller asleep after a Thanksgiving meal—on her Instagram story, writing, "you're v missed" on the bottom lefthand corner.
When Miller first passed, Grande posted a black and white photo of the rapper to her main feed on Instagram. The two dated for two years, and Miller's issues with substance abuse (that ultimately resulted in his death) were a factor in the couple's breakup, per a tweet from Grande herself.
Miller was just 26-years-old when he passed earlier this fall, but will continue to be remembered by Grande. In her most recent single, "Thank U, Next" she expresses the love she still has for Miller: "Wish I could say, 'Thank you' to Malcolm / 'Cause he was an angel."