[dp_demo_ad_fullx90]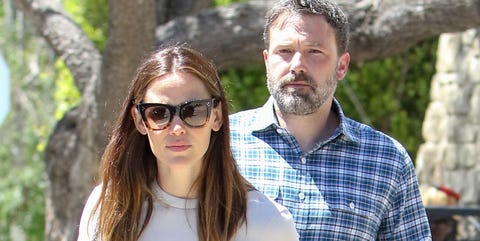 Getty ImagesBG004/Bauer-Griffin
Ben Affleck has checked back into rehab today after his ex Jennifer Garner staged an intervention, E! and TMZ are reporting. A source told E! that Garner, "visibly shaken," was seen driving Affleck to the facility after going to his Pacific Palisades home this evening with her bodyguard to confront him. E!'s source said Garner told paparazzi that it "wasn't a good time and to please leave the house," before the three left around 6 p.m.
Advertisement – Continue Reading Below
TMZ reports that Affleck "wanted the help and agreed to go" with Garner after she begged him to seek treatment. E! echoed this via a second source, who told the outlet that "he told Jen [he had been drinking] and was not resistant. He asked her to take him, and she wanted to be there for him."
Affleck checked in at a live-in rehab facility in LA tonight and will reportedly stay there for an "extended period" of time, per TMZ.
Garner was compelled to intervene after a photo circulated of Affleck accepting a box of liquor and beer from a delivery man, multiple sources told TMZ. Affleck has long struggled with alcohol addiction, dating back to 2001 and, most recently, last year. He thanked Garner for her support when he finished treatment in March 2017. "I'm lucky to have the love of my family and friends, including my co-parent, Jen, who has supported me and cared for our kids as I've done the work I set out to do," he wrote in his Facebook statement. "This was the first of many steps being taken towards a positive recovery."
His reported relapse comes days after news of his breakup with Lindsay Shookus, his girlfriend of a year, broke. He and Garner remain legally married and are still finalizing their divorce.