[dp_demo_ad_fullx90]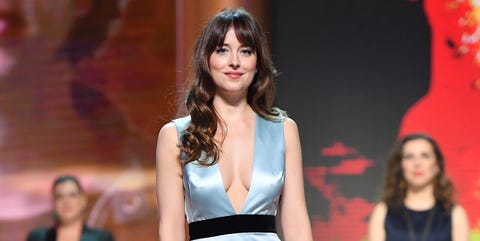 Getty ImagesStephane Cardinale – Corbis
Dakota Johnson is in Morocco to sit on the jury for the Marrakech International Film Festival this week. For the event's closing ceremony, Johnson wore this Cupid-worthy gown by Gucci.
The back of the pale blue gown features a sequin heart with glittering arrows protruding from its epicenter, shooting out to the hem of the dress. Meanwhile, the front of the gown features a plunging neckline and black satin sash at the waist.
Earlier in the festival, Johnson delivered an empowering speech about the lack of female presence on film festival juries.
"[I was] under the impression that there were almost as many women involved in cinema behind the camera, in front of the camera, behind film festivals and in film festivals," Variety quotes Johnson as saying during the Marrakech International Film Festival's opening ceremony on December 1. "This jury happens to have more women and perhaps there might be an avenue for this to occur more often in the future, and I think that's awesome."
Johnson has been wearing Gucci all throughout the film festival this week, which is in its 17th year. And aside from serving as a jury member and stunning photographers with glitzy Gucci gowns, the Suspiria actress has also been rubbing shoulders with actors like Robert Pattinson and Daniel Bruhl.