[dp_demo_ad_fullx90]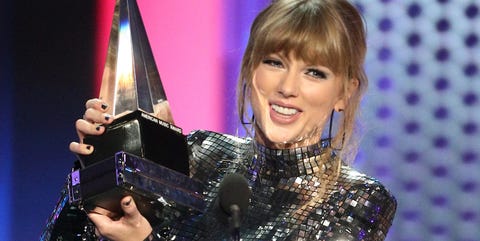 Getty ImagesFrederick M. Brown
Taylor Swift just delivered her second big statement this week in her third, final, and history-making AMA acceptance speech. Swift just became the most awarded female artist in AMA history by winning the Artist of the Year award during the show. In her acceptance speech, she thanked her fans and then used her final seconds to make another call for people to register and go out and vote in the midterm elections next month. Her speech, in full:
Advertisement – Continue Reading Below
I just want to say you guys, you guys have been so nice to me and so fun and funny and you're so cool and so loyal and I am so—it is not lost on me. I understand how lucky I am to have anyone that cares about me or my music and wow. Okay, I just—every time that you have made me lucky enough to ever get to stand on a stage and have something sparkly in my hands and say thank you—every single time this happens, it means something differently to me. It means something different every time. It represents something different. And this time I just want you to know it represents encouragement and motivation for me to be better, work harder, and try to make you guys proud as much as I can.

So thank you for this incredible symbol of encouragement, thank you so much for this, and I just want to make a mention of the fact that this award and every single award given out tonight were voted on by the people and you know what else is voted on by the people? Is the midterm on November 6. Get out and vote, and I love you guys.
The move comes after her Instagram Sunday night where she was the most political she has ever been on social media, endorsing two Democratic candidates. Her remarks even got a (patronizing) response from President Donald Trump, something Swift likely knew as she took the American Music Awards stage to make one last political statement.
Earlier in the show, Swift teased a new era ahead of her after winning the favorite pop/rock album of the year American Music award for Reputation. "Guys, I always look at albums as chapters in my life," she said during her second acceptance speech of the night. "And to the fans, I'm so happy that you like this one. I'm so happy that this means that you liked it so much. But actually, I have to be really honest with you about something: I'm even more excited about the next chapter."
Advertisement – Continue Reading Below