[dp_demo_ad_fullx90]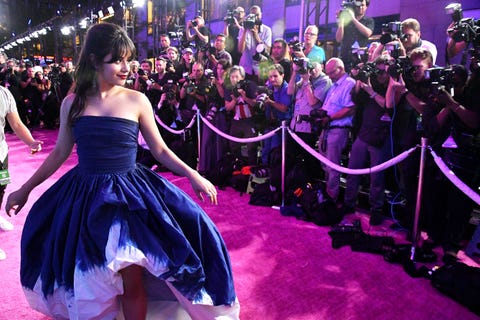 Dia DipasupilGetty Images
If given the opportunity to live out my wildest dreams before the stroke of midnight, they'd likely involve Billy Porter as a Fairy Godmother. Luckily, no glass slippers are required for this news: A live-action Cinderella reboot from Sony is heading to theaters next year, and Porter has confirmed his involvement. He recently opened up about how playing the genderless role has been a "powerful" experience. Here's what we know about the latest re-imagining of the classic fairytale, slated for release on February 5, 2021.
Who's in it?
News of the forthcoming project first broke in April 2019 when The Hollywood Reporter confirmed Cinderella as Camila Cabello's debut acting role. The report indicated that she would play the lead role and "be integrally involved" in the film's music.
In early October, Deadline reported that Idina Menzel would assume the role of Evelyn, Cinderella's evil stepmother. Menzel is a Tony- and Grammy-winning actress and a Broadway mainstay from shows including Rent and Wicked. She also voiced Elsa, the princess behind Frozen's "Let It Go."
Deadline reported on December 4 that British actor Nicholas Galitzine would play Prince Robert opposite Cabello's Cinderella. The report stated that after a lengthy search, Galitzine "wowed the filmmakers in many chemistry readings." He previously appeared in the Netflix series Chambers and will play a role in the upcoming reboot of The Craft.
THR confirmed on December 11 that Pierce Brosnan would join the film as the King, father to Prince Charming.
As for the Fairy Godmother, Porter confirmed his casting during a panel at the 20th New Yorker Festival. His theatrical work onscreen (and on the red carpet) more than qualifies him for the role. In September, he became the first openly gay black man to win the Emmy for best actor in a drama for his work on Pose. Previously, he collected a Tony and Grammy for his role in Broadway's Kinky Boots.
Porter told CBS News in a recent interview that he would be playing his role as genderless. "It hit me when I was on the set last week, how profound it is that I am playing the Fairy Godmother—they call it the Fab G," Porter recalled. "Magic has no gender." He went on to say that playing the part without gender was "powerful." Porter continued, "This is a classic, this is a classic fairytale for a new generation. I think that the new generation is really ready. The kids are ready. It's the grownups that are slowing stuff down."
In early February 2020, Deadline confirmed that casting of four additional roles, including Missy Elliott as the Town Crier and Minnie Driver as Queen Beatrice. Cinderella's three mice friends/footmen will be played by James Corden, John Mulaney, and Romesh Ranganathan.
Who's behind the camera?
Those excited for a new take on the Cinderella story have Corden to thank. The idea for the film originated with the late night host and he'll produce the project, making a Cabello/Porter/Menzel Carpool Karaoke session inevitable. Cinderella will be directed by Pitch Perfect writer and Blockers director Kay Cannon.
Has production begun?
Filming on the project began on February 13, documented by Cannon on Instagram. "Day 1 of shooting down. A gazillion more days to goooooooo!" she captioned a photo of herself next to the director's chair.
On February 4, Cabello confirmed that she was in London for work on Cinderella.