[dp_demo_ad_fullx90]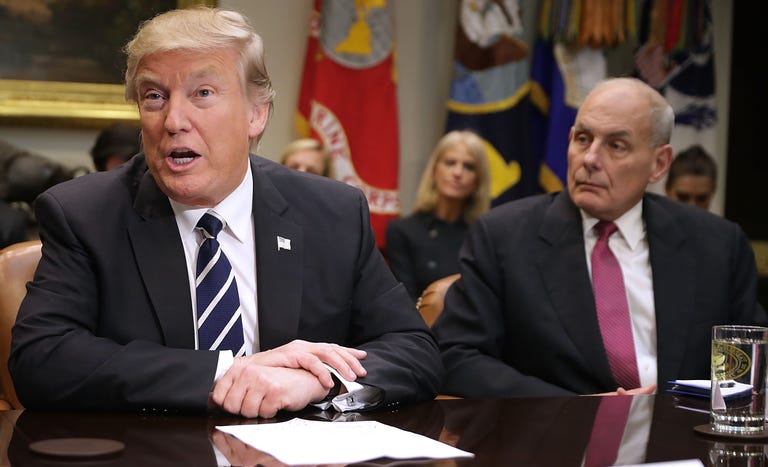 Getty ImagesChip Somodevilla
Having been shouted out of every restaurant in the Washington, D.C. area, Donald Trump and his starving band of Tom Clancy novel villains headed to Brussels, where they continued to encounter food trouble. Trump is attending the NATO Summit, an intergovernmental military alliance that normally shows a united front against aggressive nations like, say, Russia. This year is slightly different.
Advertisement – Continue Reading Below
President Trump began his time at the summit with a breakfast meeting in which he launched into a tirade accusing Germany of being "captive to Russia" and "controlled" by it. "That oughta throw everyone off my trail," he commented later.
Advertisement – Continue Reading Below
In video footage of the remarks, many noticed that Chief of Staff General John Kelly looked even more uncomfortable than usual. The Washington Post points out that he and U.S. ambassador to NATO Kay Bailey Hutchison appear to avert their gaze and shift their body language as the President speaks, much like most of us do. This was seen as an indication that they didn't agree with the brash tactic the President was employing.
Body language experts were asked to look at the footage but replied, "Yuck." So, we're left to our own devices.
Advertisement – Continue Reading Below
Advertisement – Continue Reading Below
The Post reached out to White House Press Secretary Sarah Huckabee Sanders for a comment, presumably asking her "How long is Kelly going to pretend that he can stand this dude?" Sanders, ever the fount of helpful information, told the Post that General John Kelly's displeased body language was not directed toward the President or the things he was saying. No, instead, she contended, the general—who fought in the Persian Gulf War, the Iraq War, and Operation Desert Storm—was "displeased because he was expecting a full breakfast and there were only pastries and cheese."
Honestly? Surprisingly relatable.
(I mean, also obviously untrue, as in the footage they are sitting in front of empty, clean plates so breakfast hadn't even started yet. But are we really expecting truth? At this late age?)
Advertisement – Continue Reading Below
The Trump administration can't even catch a food break abroad. This would make a wonderful Netflix show, tbh. It's like Ugly Delicious except they never get to eat anything and people are always chasing them out of restaurants with evidence of their malfeasance. At the end of every episode, Stephen Miller, aka Old Montgomery Burns, will purchase $80 worth of food and then immediately throw it in the trash and then attempt to high-five himself. Unsuccessfully. The show will run for 12 seasons.
I guess they thought that Brussels, home of the the sprout, would be different for them. But like a sprout that was boiled instead of seasoned and roasted, this experience turned sour real quick. I mean, good for them for Yelping a restaurant where at least they could sit without a young mother breastfeeding a baby walking up and yelling "SHAME!" But, nonetheless, according to reliable source Sarah Huckabee Sanders, they still got lured in by the siren song of breakfast only to find a stack of croissants and a hunk of brie everyone is too shy to cut into.
Advertisement – Continue Reading Below
Advertisement – Continue Reading Below
This is an international scandal, tbh.
As a nation, we must rise up against the tyranny of continental breakfast. Don't tell me to come to your breakfast meeting at your fancy office building at a time when I should still be scrolling through hours of InstaStories in my bed and then try to play me with a cup of yogurt in a bowl of ice and a Nature Valley Bar. I will not stand for it. I will burn this whole Nakatomi Tower to the ground.
Advertisement – Continue Reading Below
Yo, Priceline, if you tell me that my reservation comes with free breakfast and I show up and there's a plate of bagels and they aren't even cut in half, I'm going to drive straight to William Shatner's house and I'm going to kirk out.
Residence Inns by Marriott have an omelet bar and a waffle maker and I will accept nothing less. I'm not even being paid to say that. I just like waffles and the pleasant banter of a cook who knows how to flip a mean omelet, okay?!
Advertisement – Continue Reading Below
Advertisement – Continue Reading Below
Please don't invite me to your housewarming breakfast and plop down a box of Munchkins like you're really doing the damn thing. You are not and I will take my gift back and return it for cold hard cash. I will, it should be said, accept a box of assorted fancy donuts from Portland's Blue Star or a similar company or brand, but they must also be accompanied by a fruit platter. Real fruit. You know what I'm saying.
CANTALOUPE IS AN ABOMINATION. This is just the truth. Get it out of my face.
I'm not sure what they're doing over there in this NATO Summit, but if Trump doesn't come back to this continent with a hard stance on continental breakfast, we should probably consider his whole presidency a failure.
Follow R. Eric Thomas on Twitter.