[dp_demo_ad_fullx90]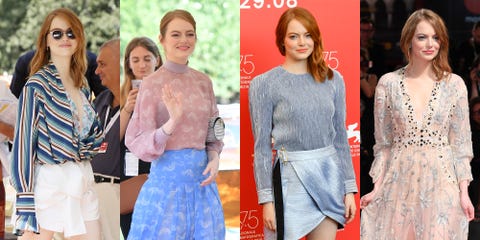 Getty ImagesErnesto Ruscio
European film festivals are a good place to be Emma Stone. Cannes once brought her such pure, unadulterated bliss that photographers had to immortalize it. And Venice is bringing the sartorial equivalent of that: bold, blissful red carpet fashion to close out the summer. The actress has been at the festival for only two days to promote her upcoming film The Favourite, with Taylor Swift's boyfriend Joe Alwyn, among other people.
Advertisement – Continue Reading Below
Already, she's worn four excellent looks, brought to us by her and her stylist Petra Flannery. A breakdown:
Look 1: Emma in the Craziest, Most Wonderful Louis Vuitton Shorts I've Ever Seen
Stone, an ambassador of Louis Vuitton, was dressed by the house for her great Venice debut. She's in a jolly multi-colored, multi-patterned blouse with a dramatic pair of plain white shorts. There's a knot-wrap thing going on that's more embellishment than anything else on the pants, but everything looks really nice and summery together.
Look 2: Emma in a Dreamy Pastel Fendi Two-Piece
Stone was photographed by the boats wearing a rom com-ready, Lalaland-meets-Venice outfit this morning: a pink top and matching blue skirt by Fendi. But the modern ankle-strap heels are the most covetable part.
Look 3: Emma in the Cocktail Version of Cinderella's Ensemble, by Louis Vuitton
More Vuitton for Stone, which isn't very surprising, for her photo call for the film. The entire look has regal cocktail hour vibes to it with its soft Cinderella blue and its short wrap skirt. The heels are especially fun with their floral pattern and gold tips.
Look 4: The Nude Nymph Red Carpet Dress With a High Slit
Here's the show stopper look: a nude dress adorned with beads and flower designs. Fit for a queen…or an actress promoting a fictional period piece about the British monarchy.