[dp_demo_ad_fullx90]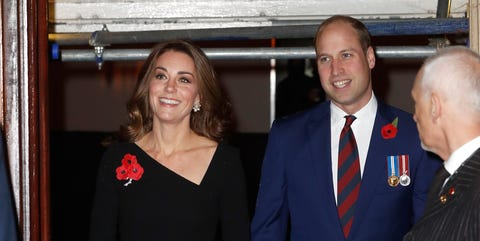 Getty ImagesChris Jackson
Kate Middleton's busy week of royal affairs continues tonight with her arrival at the Royal Festival of Remembrance at Royal Albert Hall. The event is being held the night before the 100th anniversary of the signing of the Armistice and end of World War I. It also kicks off a full weekend of engagements for the royal family. To kick things off, Kate wore a black midi-length dress with an asymmetrical neckline, and was joined by Prince William.
Advertisement – Continue Reading Below
Kate and Will were joined by the other senior members of the royal family there, including Prince Harry and Meghan Markle, the Queen, and Prince Charles and Camilla, the Duchess of Cornwall.
Kate will attend two Remembrance Day services tomorrow with Prince William, the Queen, and the rest of the royal family: one in the morning at the Cenotaph and one in the evening at Westminster Abbey.
In total, she will do four events this week. She and William's first event was Thursday for the Tusk Conservation Awards. Kate rewore a 2012 Jenny Packham gown to that ceremony: