[dp_demo_ad_fullx90]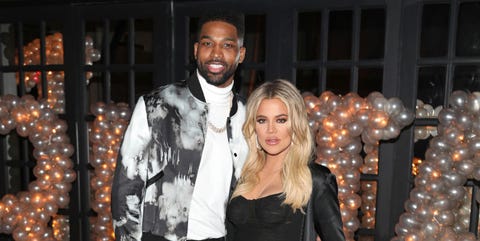 Getty ImagesJerritt Clark
Khloe Kardashian is feeling grateful for her entire family this year, including the father of her children, Tristan Thompson.
Months after news broke that Tristan had cheated on Khloe (just hours before she went into labor with their daughter True Thompson), it looks like Khloe has forgiven Tristan and is moving on, as the two of them spent Thanksgiving together with their daughter.
Advertisement – Continue Reading Below
Khloe, Tristan, and True certainly do look like the perfect happy family in this photo posted to Khloe's Instagram story (Tristan posted the same one to his feed, writing "I'm soo blessed"), but it also looks like they spent the holiday away from the rest of Khloe's family.
None of the other Thanksgiving photos posted by Khloe showed any of her sisters (or other family members for that matter) at her Thanksgiving table, and a picture posted by sister Kourtney Kardashian proves that Khloe did in fact spend Thanksgiving apart from the Kardashians.
"I woke up this morning in bed with my children, in the same house as my sisters (minus @khloekardashian 😩😢 I miss you), my brothers, the father of my kids, my mommy, my grandma, my nieces and nephew. I feel beyond grateful. Happy Thanksgiving!" Kourtney captioned the photo.
Khloe later commented on Kourtney's post writing, "You are my everything."
Advertisement – Continue Reading Below
Did Khloe and Tristan spend Thanksgiving apart from the Kardashians because her sisters are still harboring negative feelings toward Tristan? It's possible. When the dramatic Keeping Up With the Kardashians episode that showed Khloe both give birth and find out the father of her baby had cheated on her finally aired, it showed Kim Kardashian making neck slitting motions at Tristan, and none of the Kardashian sisters currently follow Tristan on Instagram.