[dp_demo_ad_fullx90]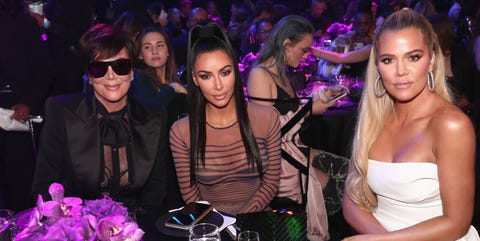 Getty ImagesChristopher Polk/E! Entertainment
As the final episode of Keeping Up With the Kardashians aired documenting Khloé Kardashian's giving birth at the same time her boyfriend Tristan Thompson's cheating scandal broke, Khloé gave a look on her Instagram story of just how weird things were in that hospital room.
"This is one of the most awkward photos I have seen in a long time," she wrote on the photo of Thompson and her family. "You can feel the tension lol but it makes me laugh for some reason. I am definitely one of those people that when I'm uncomfortable, I nervously laugh. Welcome to my labor lol."
Advertisement – Continue Reading Below
At the time of her labor, Khloé was off social media. Her sister Kim, meanwhile, was pretty vocal about how she felt about what Tristan did to Khloé in the days following Khloé's daughter True's birth. She went on the Ellen DeGeneres show and call Tristan's behavior "just so f*cked up."
And even in the hospital room, Kim and Tristan barely interacted, though Kim did make a neck slit motion pointing at him in jest.
Khloé and Tristan remain together today though. And as the episode was airing, Khloé personally addressed fans telling her she deserved better than him in her Instagram comments.
"I appreciate you! I appreciate your opinions," she wrote. "In life we all make mistakes. Some are bigger than others. His mistake was obviously humiliating and heartbreaking but I do believe that I am strong enough to endure anything. I choose to find a life lesson in every situation, even the nasty ones. Tristan has grown from this but most important he is a beautiful father to sweet baby True. Only time will tell but until then I am living in my happy place with True. She deserves only love and happiness."