[dp_demo_ad_fullx90]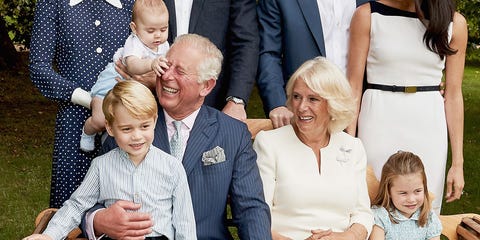 Getty ImagesChris Jackson
For his 70th birthday, Prince Charles let photographer Chris Jackson capture him on and off-duty. Clarence House released some of the off-duty photos on the evening before Charles's birthday, including those of Charles with Meghan Markle, Kate Middleton, his sons Prince William and Prince Harry, and his grandchildren Prince Louis, Princess Charlotte, and Prince George. But more new images were released today to the press, including intimate shots of Charles in his garden and with Meghan and Harry, along with one cute outtake from his family portrait.
Advertisement – Continue Reading Below
The family portrait outtake is especially fun. Prince Louis is shot covering his grandpa's eye, and his mother Kate is seen very clearly amused by it:
A second portrait from the series features Meghan, Harry, Charles, and his wife Camilla, the Duchess of Cornwall, before a charity reception on May 22. It was Meghan's first event as a royal after her wedding to Harry on May 19, 2018.
Many of the photos in the series were just Charles at work though. In one particularly fun portrait, Charles was captured working in the gardens of Highgrove House in July. It's a true aspirational garden office shot, with the cushioned chairs and functional cord phone: