[dp_demo_ad_fullx90]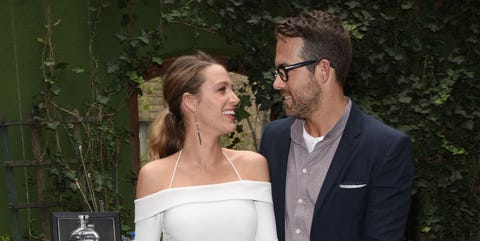 Michael Simon/startraksphoto.com
Blake Lively, the non-drinker who once quipped "I'd tell you after too many drinks, but I don't drink" to make light of her lifestyle brand Preserve closing, went as Ryan Reynolds' date to the "employee orientation" party of his Aviation Gin company. They even had a moment gazing lovingly at each other while photographers were taking photos of them. Typical for them.
Advertisement – Continue Reading Below
Advertisement – Continue Reading Below
But what is notable is Lively's continued commitment to promoting Reynolds' gin company even though she doesn't drink it. She's done it previously while promoting her upcoming film A Simple Favor. Look at her very obviously not drinking:
Call it a true sign of devotion: a non-drinker advertising her partner's gin company on her social media, going to an alcohol enthusiasts' event, etc. even though she has no personal passion whatsoever for the liquor she's promoting (other than the potential money it could bring to her household). Reynolds acquired a significant stake in Aviation Gin earlier this year, Forbes reported.
Any non-drinker who's gone to a bar, brewery, vineyard, or wine-tasting event with their S.O. who does drink knows the unique feeling. You're there sitting off on the side with a cup of water, pretending to care about the fine processes of fermentation or something, and meanwhile thinking literally the only reason you're here right now is because of your partner who you love so, so much (and who owes you). Oh, yeah, and maybe the free food.
Which is what Lively confessed on her Instagram story: