[dp_demo_ad_fullx90]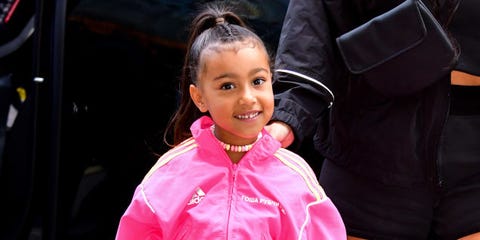 Getty ImagesJames Devaney
North West, Kim Kardashian and Kanye West's oldest child, was not happy about getting a sibling in 2015. "I thought it was a phase," Kim said last August of North not liking her little brother Saint West. "She does not like her brother. It's so hard for me."
Now, North has a sister, baby Chicago, too, but Kim told Ashley Graham on her podcast Pretty Big Deal today that North lives her life as if Saint and Chicago don't exist. It's one way to cope.
Advertisement – Continue Reading Below
"North acts like an only child at all times," Kim said, via People. "I think she's a little confused. She's beyond jealousy now. She's just like, 'It's my world.' She said to me the other day, 'Mom…we just need to have another baby brother so that Saint can just leave me alone…so the girls can be on this side of the house and the boys can be on that side of the house.'"
In fact, North has a "No boys allowed" sign on her bedroom door so one spot is brother-free. "She won't even let Saint step foot in her room," Kim said. Saint, meanwhile, "is the nicest human being on the planet," Kim said. That poor middle child.