[dp_demo_ad_fullx90]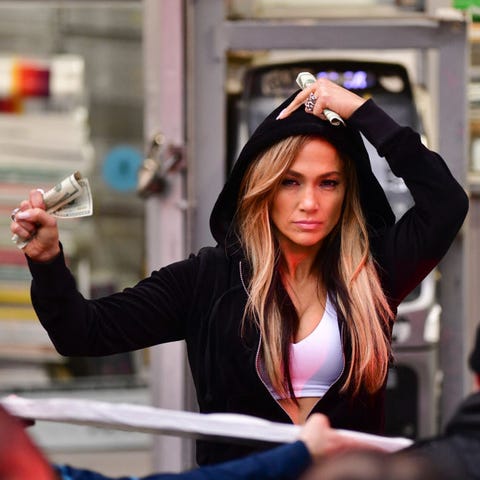 James DevaneyGetty Images
Jennifer Lopez is getting into character filming her new movie Hustlers, that much the internet found out this past Thursday when she stepped out in New York City wearing a bathrobe, Ugg boots, and full hair and makeup. But Lopez quickly followed up with a very different look when she posted a set photo to her Instagram on Sunday.
In the photo, Lopez is wearing a neon pink bikini with some perfect beach shades. She looks ready for summer and ready to take over this movie. "I'm a hustler baby… I just want you to know… #Ramona on fire," she wrote, referencing the film.
Hustlers is set to come out in 2020 and also features Constance Wu, Kiki Palmer, Lili Reinhart, Julia Stiles, and Cardi B. Wu has also been seen filming around New York City in recent weeks, but Lopez seems to be causing the most chatter with other looks like this:
Her fiancé, Anthony Rodriguez, put his stamp of approval on the image with a series of emojis that can only mean that, well, he really likes it.
The choice to cast Lopez in this film didn't seem to be a difficult one for the producers behind it. When the cast was first announced last August, producer Lorene Scafaria said in a statement that she was delighted with the choice—and that there was no other.
"There is no other actor who could embody this raw and dynamic character with such complexity, humanity, and intelligence. It's always been her," she said. "She's f*cking Jennifer Lopez."