[dp_demo_ad_fullx90]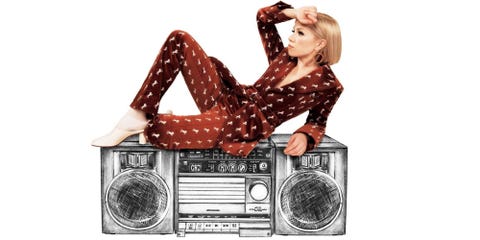 @carlyraejepsenInstagram
Who would have thought the young lass who placed third in season 5 of Canadian Idol would go on to have a giant hit thanks to the fandom of Justin Bieber ("Call Me Maybe," obviously)? Or a hit album that featured collaborations with Sia, Dev Hynes, and Rostam Batmanglij? Carly Rae Jepsen's career keeps reaching new heights—including a brand new double single, released today ("Now That I Found You" and "No Drug Like Me"). Here are 15 of her musical highlights.
Advertisement – Continue Reading Below
1
Call Me Maybe
You probably wouldn't even be thinking about Carly Rae Jepsen unless Justin Bieber hadn't complimented this song on social media. An aspiring pop star couldn't ask for a better compliment from a bonafide megastar than: "Call me maybe by Carly Rae Jepsen is possibly the catchiest song I've ever heard lol." Pure poetry! Bieber's fans paid attention, so did his manager, and the rest is history.
2
Oh wait, there was also this time Bieber made a lipsynced video of Call Me Maybe—along with famous pals Selena Gomez, Ashley Tisdale, and more. Boy, he really loved this song.
4
Good Time
Pairing up with Owl City, Jepsen followed up "Call Me Maybe" in classic Pollyanna-ish form. This paean of positivity might sound like the sanitized soundtrack to a party with The Sims (don't laugh, I'll tell you why in a minute), but there's no denying it's an earworm.
5
Run Away With Me: The Sims Version
Yeah, this happened. To celebrate the release of The Sims 4, a bunch of musicians recorded Simlish versions of their hits, including CRJ. The singer really sold her commitment to a totally fake language sung by animations, but proved it's still a great song, even if you don't understand what on earth is going on.
6
I Really Like You
Nothing says "I'm the good girl of pop music" like having Tom Hanks in your music video. The actor doesn't even have to ham it up—the irrepressible vibes of Jepsen's next "Call Me Maybe"–level were just that tight. Bieber liked this one too (as did Ariana Grande).
7
Boy Problems
Only Our Lady of the Upbeat (with a songwriting assist from Sia) could make a breakup sound so much like a level-up. Could anyone else sing, "I think I broke up with my boyfriend today, and I don't really care," and be believed? Honestly, this song sounds like confetti coming out of a cannon.
8
Cut to the Feeling
"Cut to the Feeling" was not quite right for both Emotion and Emotion: Side B and didn't make it on to either record, but finally found a place on the soundtrack for animated film Leap! If you're a Scrooge, you could dismiss it as helium-light pop frippery, but there's something radical about how this song absolutely insists on joy.
9
All That
For her best ever slow jam, Jepsen got together with Dev Hynes of Blood Orange fame. Sharp, funky, and yearning, "All That" surprised listeners who didn't think she could go there.
10
This Kiss
Another one from pre–"Call Me Maybe" album Kiss. Even forbidden fruit sounds like manna when the Canadian pop sprite takes it on; this effortless jam details a sneaky kiss that definitely should not have happened.
11
Emotion
Who loves emotions more than CRJ? She goes all Alice in Wonderland here, growing ten feet tall, turning into a flower, and whatnot. I guess that's what happens when you vulnerably open your heart. I wouldn't know!
12
Warm Blood
How did the crush queen end up with a track that sounds like a sex song for vampires? Not to put too fine a point on it, but Jepsen worked on this one with Rostam Batmanglij, literally of indie-pop band Vampire Weekend, to create a synth-heavy, slightly sinister ballad.
13
Your Type
Look, this tiny li'l pop fairy isn't for everyone, and she's aware. So she put together this ditty about being friendzoned. It comes with a huge dose of self-awareness, quite a lot of earnestness, and just the teeniest drop of desperation. A mood.
14
Higher
Fan favorite "Higher," from the Emotion: Side B offcuts EP, sounds like a minor-key version of Whitney Houston's "How Will I Know," but Jepsen definitely knows. Includes this incredible rhyme: "Every one of my fears has vanished / I don't know how you managed." ("To wake me up and come alive," if you must know.)
15
Store
The award for the most unexpected CRJ song goes to this Emotion: Side B cut. At first, it seems like a typical '80s-ish ballad about a meh relationship that she wants to cut out of, but the chorus is a truly bonkers tribute to that old Irish goodbye technique: "I'm just goin' to the store." What. And great.
16
The One
Usually, she's crushed out, but Carly plays coy on this bouncy synth bop. Sure, she's down, but she doesn't want to be the one. That's too much pressure, you know?
Advertisement – Continue Reading Below