[dp_demo_ad_fullx90]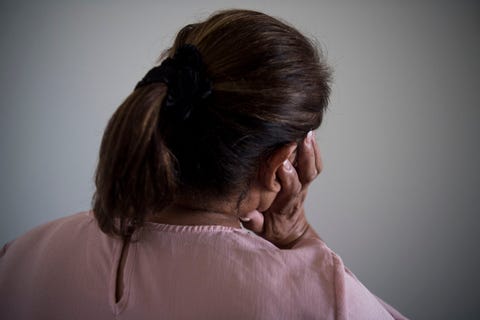 Getty ImagesThe Washington Post
If you're an American of Mexican descent born along the U.S./Mexico border via a midwife, do not apply for a U.S. passport or renewal. Not right now, anyway—and certainly not at any time under the Trump Administration. That's what Brownsville, Texas-based immigration attorney Jaime Diez is advising after news broke that the government is denying U.S. passports to American citizens and revoking ones that have already been issued.
Advertisement – Continue Reading Below
The Washington Post reported the news last week, and according to Diez, immigration officials are not only revoking passports already issued to American citizens, they've also already blocked some U.S. citizens from re-entering the country. Though the tactic is currently only affecting a small subset of the population, some fear that it will expand to target the Latinx population in general, especially those born near the border and with Spanish last names.
"It's just getting worse," Diez told ELLE.com. "I'm seeing five to 10 people a week who are dealing with that situation, on top of the 30 cases that are open, and about another four or five cases on my desk that I haven't filed because I am waiting to…breathe. I just cannot get to everyone."
The State Department has so far claimed everything is business usual, and says the practice of revoking U.S. citizenship based on fraud charges has been ongoing since the second Bush administration, when several midwives in Texas were caught issuing fake U.S. birth certificates to babies born in Mexico.
In a statement to the Washington Post, an official with the State Department said they have "not changed policy or practice regarding the adjudication of passport applications," and added that "the U.S.-Mexico border region happens to be an area of the country where there has been a significant incidence of citizenship fraud."
The government's investigation puts thousands of people at risk for deportation, mainly those born between the 1950s through the 1990s.
While the administration claims the policy remains unchanged, the enforcement strategy surrounding it has certainly been revamped. Diez said he currently has more than 30 cases that he's litigating in which Americans claim their citizenships is in limbo because of so-called passport fraud.
Advertisement – Continue Reading Below
"Juan" is one of Diez's clients. He's a 28-year-old U.S. citizen who re-entered the country with his young son after a visit to Mexico last year. Juan said in his affidavit that upon crossing through the Hidalgo Texas Port of Entry, he showed his unexpired U.S. passport to a border agent and was informed on the spot that his passport had been revoked. The affidavit also alleges that the agent told Juan that he wasn't a U.S. citizen and that he was born in Mexico. He was detained for almost 24 hours, and when his family did provide his birth certificate, the agent allegedly said it was invalid.
One of the biggest factors working against Texans trying to prove their American citizenship is that the State Department wants proof they were actually born on U.S. soil. Because they were born at home via midwives, part of that proof includes testimony from those who witnessed the birth.
The Latinx community was understandably shaken by last week's report. In a CNN op-ed, journalist Michelle Threadgould said that, as a Latina, despite having a "white-sounding name" given to her through marriage, she is heartbroken over the government's recent actions taken against her people.
"Today is not a day to hide behind safe names or the privilege of unquestioned, American passports," she wrote. "It's a day to fight for the people who have to fight; the people who don't know and fear what the future might hold."
Others on social media have also expressed their fear about passport renewal requests and/or inquiries their parents have received.
Comedian Cristela Alonzo said her family was put in that predicament earlier this year.
Democratic Senator Sen. Jeff Merkley went further and tweeted at President Trump directly.
As for policy changes, the American Civil Liberties Union (ACLU) has already filed another lawsuit (similar to the one they filed and settled on in 2009) against the Department of State "challenging this arbitrary and discriminatory policy." According to this new lawsuit, the ACLU "argues that the way in which the U.S. State Department is deciding whether to issue passports to American citizens is a violation of both the due process and equal protection clauses of the Constitution."
Democratic lawmakers are also calling for federal courts to take up hearings regarding "a systemic anti-Hispanic bias." In response to the Post's story, Rep. Joaquin Castro (D-TX) said, "This represents an unacceptable targeting of people based on their ethnic heritage. It violates the Constitution. It should be investigated by Congress in both chambers, and we should take action to stop it as soon as possible through legislation if necessary."