[dp_demo_ad_fullx90]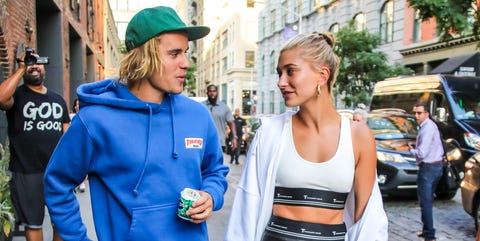 Getty ImagesAlessio Botticelli
Hailey Baldwin, the newly-Instagram-official Hailey Bieber, would like to remind you as you're pulling out your holiday decorations that her husband Justin Bieber has a holiday album available to stream on your preferred music platform. Mrs. Justin Bieber shared a brief video of herself on her Instagram Story lip-syncing her husband's 2011 holiday hit "Mistletoe." She performs the line, "Your lips on my lips, that's a merry merry Christmas." It's a fitting choice, given she's one half of a newlywed couple who has made out publicly all around the world:
Advertisement – Continue Reading Below
Here's the full video for a real throwback:
Bieber currently has no plans to make new music anytime soon and don't you dare even ask him about it because he will get pissed, People made clear in a report last week. Bieber is just trying to find his purpose right now—with Hailey's blessing though! "He is in love with Hailey," a source told People. "She encourages him to do whatever he wants to do and is encouraging him in this season of self-discovery."
Regarding music, People's source said to just leave the Biebs alone: "He has worked for years, and the first time he takes a significant break, everyone's all, 'When's he coming back?'" the source explained. "To Justin, those aren't just questions—those are demands. For years, everyone has tried to take a piece of him. Just let him be."
The Biebs, instead, is spending his Thanksgiving up in Stratford, Ontario with his family.
Advertisement – Continue Reading Below
He went to a Santa Claus parade on Saturday:
And he shared a selfie and shot of his nephew, both of which his wife liked on his 'gram.
At this point, it's unclear whether Baldwin will join Bieber in Canada for Thanksgiving or whether she'll spend it with her own family in New York. But it does appear she's away from him for now, as she hasn't appeared with him in any shots fans have taken with him out (and they're usually inseparable) and because she's hinted herself on her 'gram that she's working.
Baldwin last shared an Instagram story of herself in New York City Thursday. She had an event that night for Levi's, where she wore her "Bieber" denim jacket:
Yesterday she also shared a shot of herself in front of a makeup mirror, suggesting she's shooting something.
That said, this is Jailey, who literally do everything together, from doctor appointments to haircuts. It won't be long at all until they're back out, wearing matching outfits and being photographed by fans or paparazzi getting coffee together at Dunkin Donuts or Tim Hortons.