[dp_demo_ad_fullx90]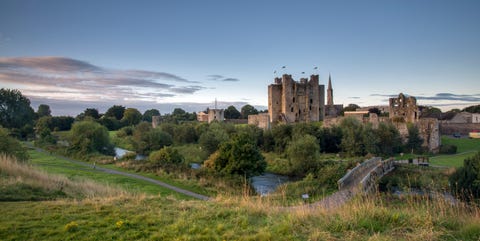 Courtesy of the Board of Tourism
When it comes to using valuable PTO time, the sky's literally the limit. You can jet to the beach, the city, or the absolute middle of nowhere: Dream it, name it, book it.
If your wanderlust requirements include time spent in a big city and outdoors, consider Ireland. The "Emerald Isle" mixes breathtaking landscapes with colorful cities big and small, and its 5,000+ years of history make for a vacation that's unlikely to leave you bored.
One day you're hiking or exploring Irish castles (like Trim Castle, seen above); and the next night you're catching live music or doing dinner at a buzzy restaurant recommended by a friendly local (Ireland's been quietly waging a gourmet food revolution). Relatively small compared to the U.S.—it's approximately the size of Indiana—it's easy to mix both town and country.
The only tricky spot? What to pack. With such a varied itinerary, staying organized and logical about what's worth the suitcase space is key. To help, we've rounded up the most important pieces to bring along.
Advertisement – Continue Reading Below
1
The Versatile Sneaker
Veja
madewell.com
$150.00
The just-right shoe can pull triple-duty, working for mornings exploring the Irish coastline, afternoons strolling quaint villages, and evenings investigating the artisanal food scene. (Sneakers with dresses is basically the American-girl version of that je ne sais quoi French-girl thing.)
2
The MVP Jeans
You can't pack a vacation suitcase without good jeans. All aren't created equal, though—you really need a pair that has enough stretch to let you wear them multiple times without getting too baggy.
3
The Perfect Layering Tee
The perfect OOO t-shirt for a destination like Ireland, where so much of the allure is the great outdoors, is one that's built with smart keep-you-warm technology. Chic enough to be worn solo, it's also just right for layering. 
4
The Two-fer Beauty Stick
Charlotte Tilbury
bloomingdales.com
$45.00
Keep your makeup bag streamlined by packing items that have more than one purpose. The golden peachy hue of this genius stick is flattering as a cheek and lip color. 
5
The Multi-Pocket Crossbody Bag
Creagh
creagh-bk.com
$595.00
A heavy bag is the worst sort of accessory to carry around on a full day. Pack a small crossbody that's roomy enough to carry essentials for hiking and shopping (a must for the varied itinerary Ireland commands). Multiple zippered pockets make it easy to stay organized without a space-hogging wallet. 
6
The Jet Lag Rebounder
Slip
dermstore.com
$50.00
Sleeping on a plane, sleeping when your body thinks it's daytime…getting on the right REM cycle when traveling to Europe doesn't happen instantly. Help make catching some zzz's easier with a comfy silk sleep mask.
7
The Blazer You'll Wear a Ton
A tailored blazer is wonderfully adaptive: It works with jeans and a tee just as easily as a fancy dress. Wear it to the airport to keep suitcase wrinkles at bay (and to instantly make your travel outfit look more polished), then slip on as the perfect layer for Ireland's mild year-round climate.
Advertisement – Continue Reading Below