[dp_demo_ad_fullx90]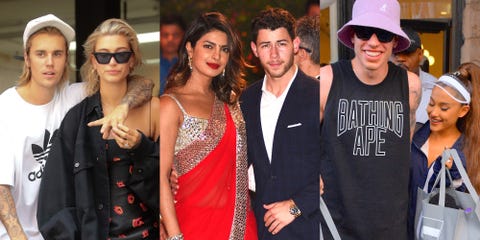 Getty ImagesBG024/Bauer-Griffin
This summer, quick engagements have been a thing among some very high-profile celebrity couples. Wild and crazy and maybe reckless? Maybe, but hey, love is love. And it means three big celeb weddings are approaching. But which ship is sailing the fastest: Jailey, Grandson, or Chonas?
Will Hailey Baldwin and Justin Bieber get married imminently in New York City, their favorite place in the world to make out, or the Bahamas where they got engaged? Will Ariana Grande and Pete Davidson be the first to exchange vows on August 4, in honor of his father's squad number 8418? Or will Priyanka Chopra and Nick Jonas surprise us all and get married fast on the down-low?
Advertisement – Continue Reading Below
Place your bets:
If you picked Jailey:
Advertisement – Continue Reading Below
If you picked Grandson:
Consider this wedding date evidence before you vote. Here, for your consideration, the case for each via tabloid sources.
Hailey Baldwin and Justin Bieber
Advertisement – Continue Reading Below
Advertisement – Continue Reading Below
The Evidence: On Sunday, Bieber was asked by a paparazzo what's next for him while out in New York City. He replied, "Getting married," in footage TMZ posted.
People reported Wednesday that this will be a short engagement. "They don't want a long engagement and are already planning their wedding," a source said. "They are spending a lot of time with Hailey's family in NYC, and everyone is very excited that they are getting married. Justin still seems extremely happy. He is relaxed and very much enjoying his life. He feels very lucky to be with Hailey. He can't wait to call her his wife."
Two of Baldwin's bridesmaids have already been revealed, suggesting she's already chosen her bridal party. But E! reported two weeks ago that the couple plans to get married next year. A source said then that "they want to be married next year. They are having both of their families be very involved in the process and do not want to make a huge deal out of the celebration. It will not be an over-the-top wedding." So maybe it will be next year or maybe it will be sooner, depending on how fast Bieber finishes projects on his agenda.
Advertisement – Continue Reading Below
Ariana Grande and Pete Davidson
The Evidence: Fans are convinced that the two may be getting married on August 4, 2018, as 8418 is the badge number of Davidson's late father, who died in the line duty during the 9/11 terrorist attacks. Significantly, Davidson already gave Grande his dad's original badge pendant to wear.
Advertisement – Continue Reading Below
Advertisement – Continue Reading Below
The couple announced they were taking a social media break last week, so they haven't offered any additional hints of when their wedding is planned (not that they were that explicit about their personal plans when they were active, and Grande is back on Twitter regularly tweeting about her upcoming album this week.)
But Us Weekly did report on June 11 that the two are not planning an immediate wedding. "They are a perfect fit. They are not rushing to get married," a source said then. "Their friends are really excited and supportive." August 4, 2018 may be a once-a-century special date to Davidson, but it's a tight deadline for a wedding—and their relationship did only start less than 6 months ago.
Advertisement – Continue Reading Below
Priyanka Chopra and Nick Jonas
The Evidence: Nothing really about this couple has gone as slow as sources suggested it'd be. On July 13, E! reported that the two weren't in any rush to get married (this was before they were engaged.) "Priyanka and Nick are still very serious, [but] they aren't in a rush to the altar anytime soon," the source said then. "They are enjoying getting to know each other, but are definitely still inseparable since going public with their relationship." On July 18, a source told E!, "Everyone around them thinks that they will be engaged within six months to a year." So not, you know, like 11 days later when the news broke on outlets.
Maybe they will not rush down the aisle. Or maybe they will super sneakily on their own, and we'll all find out a week or two later. The two have yet to confirm the engagement on their social media, and their reps haven't commented.