[dp_demo_ad_fullx90]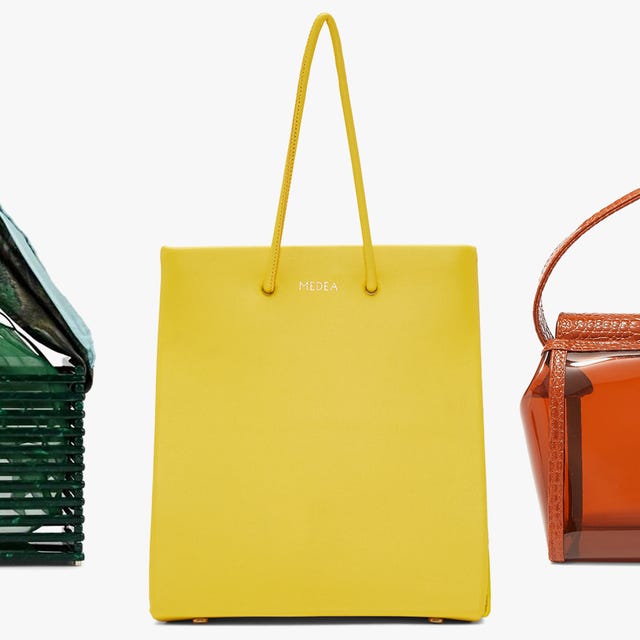 Courtesy of Brand
Spring is a season of renewal—and for some that means a refresh on the handbag front. Well-known labels are great, but if you're in the market for up-and-coming designers who are changing the game (and worth the investment) this story is for you. From all-vegan goods to an Italian export that already counts Rihanna as a fan, these are the eleven emerging brands of 2019.
Advertisement – Continue Reading Below
Yellow Short Prima Bag
Created by twin sisters Giulia and Camilla Venturini, these Italian goods resemble chic shopping bags (and make every errand feel like a luxurious shopping spree!) Available in a variety of bright colors and sizes, Rihanna was recently spotted wearing a mini suede version to a Fenty Beauty event. 
Joe Joe Corduroy Bag
Alfeya Valrina
garmentory.com
$185.00
Designed and handmade in Indonesia, Alfeya Valrina is setting out to promote ethical fashion practices with conscious fabric sourcing, fair labor production, and more. Her punchy colors made a splash during New York Fashion Week with the industry's cool crowd. 
Amelia Mini Leather Top-Handle bag
Nico Giani
matchesfashion.com
$352.00
Nico Ganni's bags are inspired by '50s and '60s interior design. These vintage silhouettes will make the most casual outfit feel put together. 
Lady Leather Tote
Ratio et Motus
net-a-porter.com
$1,150.00
Ratio Et Motus is on the pricier end, but the new fine leather brand is worth the splurge. Their refined aesthetic focuses on longevity over fast trends, which means you'll be able to wear the bag for years to come. 
The Fiona Bag
Made with vegan leather and recycled plastic bottles, JW PEI's lightweight bags make sustainable fashion look good. 
Nº44 Lucite Buckle Mini
Imago-A
imago-a.com
$345.00
With '90s nostalgia still going strong, shoulder bags have made a come back. Imago-A nails the aesthetic with this perfectly shaped style that comes in a range of hues. 
Orbit Bag
Kozha Numbers
primaryny.com
$385.00
Inspired by the founders' love of architecture, Kozha Numbers bags are made with intricate details that add an edge to your wardrobe. 
Bellows Crossbody Bag
Cafune
shopbop.com
$445.00
Cafune is a Portuguese term for 'playing with a lover's hair.' It's a fitting name for this bag brand, whose styles are rife with feminine details.
Montunas Guaria Box Shoulder Bag
Montunas
barneys.com
$495.00
Created by Costa Rican-born model Elke Ruge and her two daughters, Montunas is inspired by their native country. These vibrant bags feature patterns of Costa Rican landscapes, ideal for summer dressing. 
Water PVC and Croc-Effect Leather Tote
Gu_de
net-a-porter.com
$375.00
Pronounced 'good', Gu_de is a '70s inspired bag brand that features timeless silhouettes with a twist, like this PVC and croc embossed top-handle. 
Hortensia Mini Bag
Wandler
farfetch.com
$660.37
Already a favorite amongst the fashion crowd, Wandler produces luxurious leather bags that come in distinct, geometric shapes. 
Advertisement – Continue Reading Below