[dp_demo_ad_fullx90]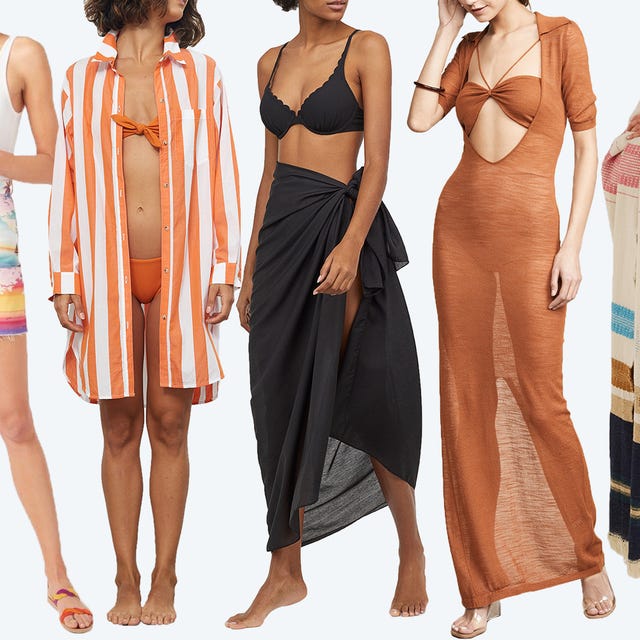 Courtesy
We love a strategically staged bikini shot, but there's more to beach style than choosing the perfect one-piece. It's the time to be bold: Rethink your beach outfit with resurrected classics, experiment with unexpected trends, and a (re)try a type of pant we thought died in 2001. Read on to see 15 sand-appropriate looks with this
Advertisement – Continue Reading Below
Let's start with a classic: the sarong. Use it as a beach blanket, a skirt, or a dress. We especially love this all black look from H&M, which is a timeless outfit you won't regret in twenty years.
The It-Trend of Summer
Maracuya Dress
Staud
staud.clothing
$215.00
Fruit is officially trending. Brands like Marc Jacobs and Insta-loved Staud are decorating traditional summer gear with bananas, cherries, and more tasty additions.
The Blanket
Appliquéd embroidered wool wrap
Loewe + Paula's Ibiza
net-a-porter.com
$690.00
Loewe's collaboration with Paula's Ibiza is all we want to wear this summer, from the vibrant prints and patchwork pants to bucket hats approved by A$AP Rocky. On the top of our wishlist is this blanket, which is essential for snuggling up to at a midnight bonfire. 
The Sporty Set
Woven Shorts
If your style veers on the sportier side, you'll be happy to know that vintage nylon suits are back. We love this throwback color combo. 
The T-Shirt Dress
The Cotton Box-Cut Tee Dress
Everlane
everlane.com
$28.00
Nothing is more casual than a t-shirt dress at the beach. It packs away easily, dries quickly, and is the best anti-trend look we can think of. 
Mid Blue Ripped New Boyfriend Jeans
Topshop
topshop.com
$85.00
If you're going to wear full-length jeans, opt for a baggier fit. It will feel less restrictive on a casual beach, and looks perfect with a billowy blouse. 
The Statement Skirt
Hawaii Denim Mini Skirt
Ksenia Schnaider
koibird.com
£325.00
The best part about wearing a one-piece swimsuit is the ease of throwing on a skirt and calling it a day. Push yourself further with a loud statement style like this Hawaiian dream from Ksenia Schnaider, an up-and-coming designer based in Kiev. 
The Wrap Dress
Scalloped Embroidered Wrap Dress
Tory Burch
toryburch.com
$698.00
There is a wide array of dress options that work for the beach (including some we included here), but the easiest option is the wrap dress. It's basically a robe, but fancier.  
The Easy Jumpsuit
Pintuck Cami Jumpsuit in Blossoming Vines
Madewell
madewell.com
$148.00
We wear jumpsuits on almost any occasion, so of course we're wearing them oceanside. The way Madewell styled it is great if your beach gets chilly at night, pairing their jumpsuit with a denim jacket and simple brown sandals. 
The Cargo Pant
BDG White Cargo Pant
BDG
urbanoutfitters.com
$79.00
Cargo pants are officially back, but there's no need to be scared of this '90s slacker icon. Try this all-white ensemble with a belt bag. It is a fresh take on the Y2K throwback. 
The Button Down
Bennett Coverup
Mara Hoffman
marahoffman.com
$250.00
A button down is the perfect beach to boardwalk option. The collar automatically makes you look put together, even if you're fond of cheeky bikinis. 
The Sheer Dress
Long Piana Dress
Jacquemus
shopbop.com
$510.00
There are very few opportunities where you can wear a sexy, yet casual, dress. The beach is one, so take advantage of it. 
The Beach Bum Hoodie
Baja Striped Cashmere Hoodie
The Elder Statesman
net-a-porter.com
$2,195.00
The traditional Baja jacket found at a Venice Beach vendor got an makeover from The Elder Statesman. Instead of scratchy hemp, the brand reworked it in luxurious cashmere. 
The Matching Set
Textured Weave Openwork Pants
Beach pants are a must for summer, and we love the idea of a pair as a part of a matching set. Zara did us one better and designed an unexpected polo shirt, which is rarely worn at the beach. 
Borrowed from the Boys
Tora Shirt
boardiesapparel.com
£90.00
We're not sure why board shorts became unpopular with women, but we're currently obsessed with this menswear style. OG brand Boardies is making their comeback, with printed sets for men we're dying to steal from our S.O.. 
Advertisement – Continue Reading Below