[dp_demo_ad_fullx90]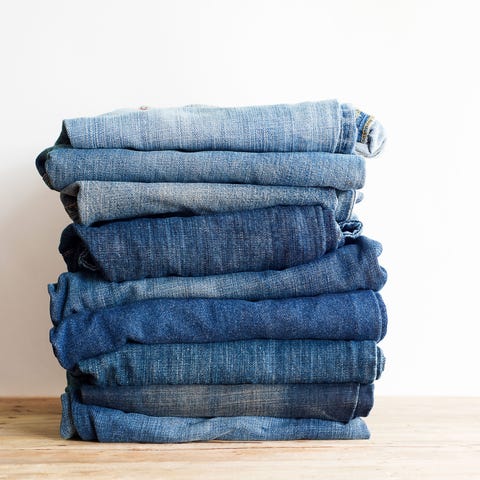 Premyuda YospimGetty Images
You've got your seven-step nightly skincare routine down pat―so why don't you care for your quality fashion pieces the way you care for your complexion?
Just like "squeaky clean" cleansers can strip your skin of its natural moisture barrier, cheap detergents fade the color and texture on your favorite denim fast. That's why Tide formulated its new Studio by Tide Darks and Colors (available at Walmart!): to keep your jeans, more delicate than you think, from fading, fraying, or otherwise having a shortened life span.
Here, Tide Senior Scientist Jennifer Ahoni breaks down exactly how we should all be washing our blue jeans, baby.
1. Your detergent is key.
You know how your hairdresser is always begging you to come in for toner between dye jobs? That's because hair color fades every time you wash it, and the same rule of thumb applies to dark denim. It's crucial to use a detergent that's specifically formulated to lock in color, like Studio by Tide Darks and Colors.
"The formula contains special ingredients that bind to chlorine in the wash water to help prevent fading over time," explains Ahoni. "It also has technology that trims down broken and stray fibers to keep dark denim looking newer longer."
2. You should really learn the difference between all those cycle settings.
Hate to break it to you, but blindly turning the dial on your washer to whatever cycle feels right in the moment (or considering "regular" your ride or die) isn't exactly a roadmap to great denim. According to Ahoni, you should actually be treating your jean jacket the way you handle your laciest lingerie—by using the delicates cycle.
"You should use the delicate or gentle cycle to help preserve the denim's finish and help minimize shrinking," Ahoni says. "[And since] denim can get pretty heavy when wet, wash it separately from other delicate garments." (P.S., if you're hooked on distressed or fringe-ankle jeans, Studio by Tide Delicates detergent is extra gentle).
3. Keep your denim out of hot water…literally.
Denim's unique texture requires extra care, especially when it's dark, fringed, or vintage. Always read the wash instructions on your favorite piece's label, but, as a rule, most denim will thrive when washed in cold water. Per Ahoni, it helps "protect the integrity of fibers and helps to minimize fading."
"This is especially important for dark denim as deep indigo dyes are notorious for losing color or bleeding onto other close fabrics," she adds. "It's important to use a detergent like Studio by Tide that is designed to still deliver a gentle clean, even in cold wash temperatures."