[dp_demo_ad_fullx90]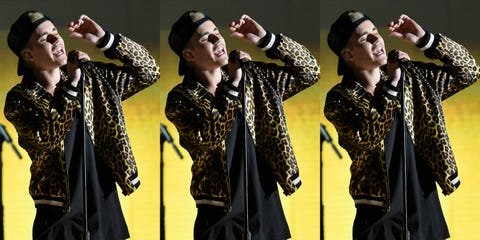 Getty Images
Justin Bieber is famous (or infamous) for many things—one of those being his incredible personal style. Whether he's sporting Drew House or mixing up his ensembles, the singer's streetwear is must-see. In honor of his birthday and release of the documentary Justin Bieber: Seasons, scroll through some of the Biebs' best looks.
Advertisement – Continue Reading Below
1
February 6, 2020
Spotted in New York City wearing a hot pink Drew House ensemble, paired with a Lakers bomber jacket.
2
January 27, 2020
Attending the premiere of his YouTube documentary, Justin Bieber: Seasons in a pair of pastel pink pants and a white long-sleeve tee.
3
August 21, 2019
Out and about in Los Angeles wearing a tie-dye Drew House hoodie and light gray basketball shorts.
4
July 20, 2019
Sporting an art-inspired graphic tee from Drew House while out in LA.
5
May 3, 2019
Walking through Manhattan in a bright red overcoat over a casual, hunter green look.
6
February 16, 2019
Keeping warm in an giant, electric red coat while walking the streets of New York City.
8
October 24, 2018
Looking skater boy chic with a tie-dye hoodie and cargo pants in Los Angeles.
9
September 15, 2018
Bieber proves that watercolors and sweatpants definitely mix while out on a Midtown Manhattan stroll.
10
August 30, 2018
Taking relaxed style to the next level with a button down floral shirt and casual pool slides for a stroll through Los Angeles.
11
August 13, 2018
Contradicting colorblindess with bold pops of green, yellow, and red while out in New York City.
12
July 30, 2018
Stanning Supreme to the max.
13
July 2, 2017
Repping his own merch onstage in London.
14
December 19, 2016
Bundled up in a massive fur coat on a 61 degrees L.A. day.
15
August 21, 2016
Printed leather jackets is a secret sartorial signature of Justin's.
16
July 18, 2016
Nailing geek chic onstage during his 'Purpose' tour, Madison Square Garden show.
17
May 4, 2016
Looking flawless in Balmain at the Met Ball Gala.
18
March 9, 2016
Giving hot librarian onstage in Seattle, Washington.
19
February 26, 2016
A long hoodie as a head scarf doesn't make much sense in Los Angeles, but when you're Justin Bieber it does.
20
February 15, 2016
Channeling his inner Cheetah Girl onstage during the 58th Annual Grammys.
21
November 22, 2015
In jeans and a band tee at the American Music Awards in Los Angeles, California.
22
October 20, 2015
Because a basketball jersey is better as a pair of shorts.
23
March 14, 2015
Cleaning up nicely for his Comedy Central roast in Los Angeles.
24
July 21, 2014
Giving graffiti vibes pre "Sorry" video in Los Angeles.
25
July 17, 2013
Looking extra AF in white drop crotch pants and a spike white jacket onstage in Philly.
26
March 6, 2013
Gas mask, but make it fashion with a snap back and sneakers.
27
December 11, 2012
Onstage at Hot 99.5's Jingle Ball 2012 in — yes — a leather bandana.
28
January 28, 2012
At the NRJ Awards proving that skinny ties aren't only for emo boys.
29
November 20, 2011
This American Music Awards look is perfect for party rocking.
30
August 7, 2011
Rocking an askew bow tie at the 2011 Teen Choice Awards.
Advertisement – Continue Reading Below