[dp_demo_ad_fullx90]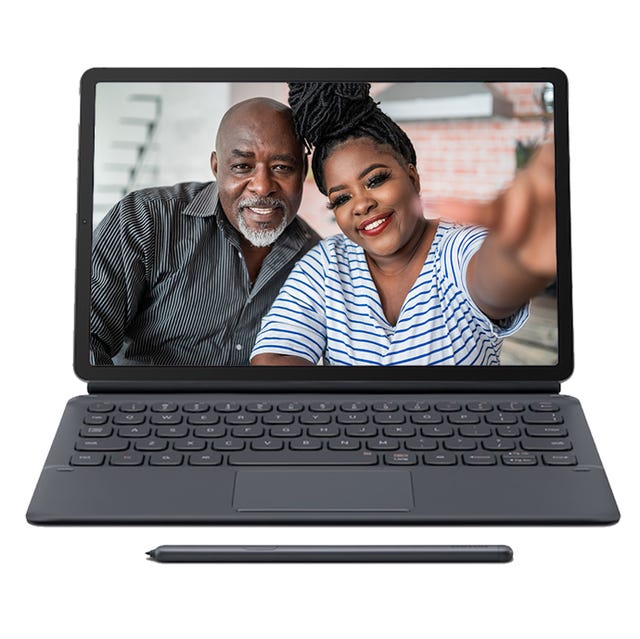 Elle
If the dad in your life has discerning taste, landing on the perfect Father's Day gift can be a real challenge. This year, instead of returning to same-old favorites, surprise him with something fresh that will surpass his wildest expectations. While no gift can ever repay a lifetime of fatherly love and support, these ideas are an excellent place to start.
Advertisement – Continue Reading Below
1
Galaxy Tab S6
Samsung
samsung.com
$649.99
Dads love a gadget, and the Samsung Galaxy Tab S6 will excite gearheads and technophobes alike. This sleek widescreen tablet and included S Pen offers an impressive range of entertainment possibilities and effortlessly transforms into a full PC set up with the attachable keyboard (sold separately). The 2-in-1 turns into a full-blown PC with DeX—a Desktop Interface that allows use of multiple apps, mouse and keyboard support. It is also equipped with SmartThings technology, which will allow him to control his other home devices. It's the ultimate command center for the head of the household—or so he'll like to think.
2
Roadie 24 Cooler
From fishing trips to tailgating, everything goes better with a cold beverage. This premium cooler is perfect for active dads who like to get out of the house. The permafrost insulation of this top-of-the-line option will keep his favorite six-pack frosty for days, and its rugged utility is guaranteed to real in rave reviews on dad's next big trip.
3
All Day Marrakech Bag
Métier London
metierlondon.com
$2,680.00
Stuffy ties have nothing on this luxe and ultra-functional briefcase. With pockets galore (perfect for his Galaxy Tab S6) and effortlessly stylish construction, this bag will outshine all the Father's Day gifts his office buddies will be sporting in the Monday meeting.
4
Creator Ford Mustang
Dad's dream car doesn't have to be off the table for Father's Day. Give him a toy that will excite his inner child, and let him create an exotic racer or a muscle car from scratch. These builds are instant collector's items, so don't let them pieces fall into the clutches of his little ones.
5
990v5 Sneakers
New Balance
newbalance.com
$174.99
Dad doesn't have to be a hypebeast to adopt this of-the-moment trend. Let him lean into his signature dad style with the shoe every sneakerhead is coveting. These are a few decades old, yet guaranteed to score him some serious fashion points no matter how he wears them.
6
Framed Photo Print
Sonic Editions
soniceditions.com
$399.00
He's always been your hero, so this year, give him a framed print of one of his. Whether it's a "Greatest of All Time" sports champion or a legendary Father of Rock and Roll, these artsy photos are beautiful options that mom may just allow him to hang up outside his man-cave.
7
Tajima American Wagyu New York Strip Steak
Holy Grail
holygrailsteak.com
$69.00
Give your grill master a taste of the finer things with a best-in-class cut of steak. Select one of these rare marbled meats sourced from around the globe and have a premium pack shipped direct in time for Father's Day. It's the perfect surprise treat he'll look forward to all weekend.
This content is created and maintained by a third party, and imported onto this page to help users provide their email addresses. You may be able to find more information about this and similar content at piano.io
Advertisement – Continue Reading Below