[dp_demo_ad_fullx90]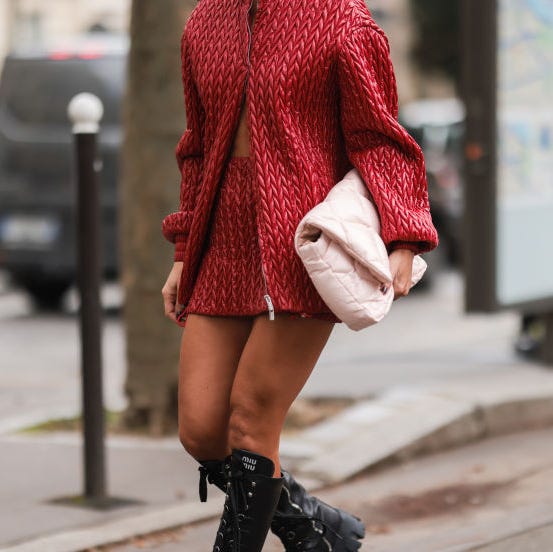 Jeremy MoellerGetty Images
When it comes to harnessing the selling power of influencers, no one has done it quite as expansively—or successfully—as Amazon with The Drop. The program is all about partnering with a tastemaker and letting them curate a tight capsule that conveys their individual style in a few key pieces. By making it shoppable, and getting the influencer's input, they're making it not only possible—but also easy—to get the same vibe or aesthetic.
While shopping a particular style star's look is pretty fantastic, you're doing yourself a major disservice if you sleep on Staples by The Drop. It's a curated selection of pieces that sticks around longer than the 30-hour drops each influencer-capsule commands and isn't tied to a specific IG handle. Rather, these are silhouettes and shapes that have an overall air of street-style-stardom (the type of stuff you know you've seen everywhere, but can't place exactly when or where).
Fresh off of fashion week's best street style, where handbags were the eye candy, we rounded up our favorite bags from Staples by The Drop.
1
Helen Saddle Crossbody Bag
The always-present crossbody feels most current in a half-moon shape and with a unique print or color. This one ticks both boxes (that creamy snakeskin print!) and feels even more luxe due to the hardware.
2
Diana Top Handle Crossbody Bag
Top-handle silhouettes might be the most classic of all, hence why there's never a street-style season without a plethora of them. The key to buying cheaper is to avoid anything that's over-the-top: You want understated and elegant.
3
Satin Knotted Handle Bag
Luxe satin juxtaposed with knotted handles or straps has been an it-arm favorite for a few seasons now. The Drop version is just as off-duty-cool, and the shape is perfect for holding whatever you need without feeling too large.
4
Bella Small Tote Bag
Come chilly weather, sherpa will reliably have a moment in the accessory world. The fashion set tends to go all-in with it (as opposed to small accent spots), and this iteration is pretty close to perfect.
5
Avalon Small Tote Bag
A looped handle gives off chic optical-illusion vibes, and versions of this grab-and-go shape have been held and tucked and swung around the globe's fashion capitals for a few years. Grab your own version: It's not going away.
6
Bella Small Tote Bag
You can barely take a well-heeled step in a street style scrum without touching at least one quilted bag. Twists on the iconic look are always appreciated, and this oversized version that's a workaday shopper is extra-cool for its uniqueness.
7
Rylee Quilted Belt Bag
Belt bags mix style with practicality—hands-free living!—and this one's removable strap illustrates another fashion-lover favorite: Versatility. Wear it at the waist for day, then turn it into a clutch for evening hours. 
This content is created and maintained by a third party, and imported onto this page to help users provide their email addresses. You may be able to find more information about this and similar content at piano.io