[dp_demo_ad_fullx90]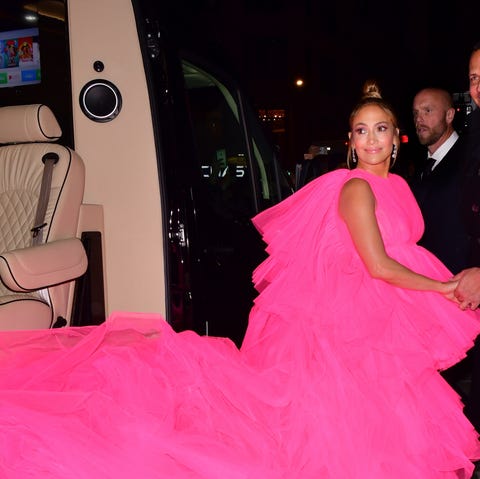 Getty ImagesJames Devaney
Despite the couture component, J-Lo's latest selfie is surprisingly relatable. It shows the superstar in a massive Giambattista Valli dress, crammed and crouched in the backseat of a car.
Tulle cascades aside, we've all been there, and with holiday party season in full swing, it's bound to happen again. 2018 is the year of BDE, after all, and as far as the runways are concerned, that clearly means "Big Dress Energy."
Enter Hyundai, whose latest ride is called The Palisade. It comes with Hollywood perks like digital everything and plush spacious seats (including a foldable third row). Even better, it comes with Ty Hunter as its new ambassador. The stylist / designer / etc. is behind iconic looks for Beyoncé, Kim Kardashian, and more; he's also helping Hyundai launch their first fashion merch. (Really.)
With that unique grasp of both cars and clothes, Mr. Hunter has some clutch tips for roadside style, which he shared with us at the Palisade's launch in Los Angeles.
Rule #1: Know Thyself (and Thy Dress)
"The hardest dress I've ever had to load into a car was Beyoncé's sheer Givenchy gown by Riccardo Tisci, which she wore to the Met Ball. It looked like the lightest thing in the world, but that dress was so heavy, physically. Having to pick that up and put it into the car, and get it out of the car, and get her out of the car—I was terrified it would get caught on something. So I made sure the backseat was clear, and also made sure the dress could move in the car before she even put it on."
Rule #2: All Hands on Deck
"If you're wearing a long dress into a car, you should pick the train (or the back) before you sit down. You hold the dress with one hand and then you smooth it before you sit with the other hand. Then you lightly put the dress right on your lap or even on the car floor, if it's very clean… Try not to ball up the fabric in your fist, because that could make it wrinkle… The dress is kind of like life, you know? You just have to let it go where it goes, gently."
Rule #3: Get a Door Man
"If you're a celebrity arriving to a red carpet, normally there's paparazzi on both sides of the car. So first, I would have to climb out to block their shot as [the celebrity is] getting out of the car… If you're nervous about getting out of the car—your dress is short or you're worried about landing right on your shoes—have your man or your friend just open your car door and stand right in front of it as you go out, to kind of block anyone from looking at you. That's a trick. Get out on the opposite side of the car from the to make sure you're all set. Then you get to do a cool walk around the front of the car, kind of like a big reveal of your outfit in motion."