[dp_demo_ad_fullx90]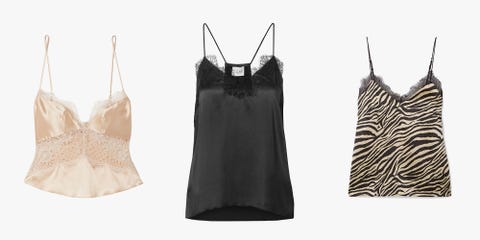 Courtesy
In middle school, my ideal outfit consisted of low-rise jeans, Adidas shell toes, and not one, but two layered camis in contrasting colors. Nowadays I'm dedicated to straight-leg denim, I've swapped my Superstars for Air Maxes, and my camisoles are now made of silk. Not much has changed, and that's because the camisole is a wardrobe staple. Wear it to work with a blazer, fall asleep in a cotton tank, or hit the town trimmed in lace. We narrowed it down to the 13 best camisoles that meet all your needs, here.
Advertisement – Continue Reading Below
Butter Camisole
Commando
nordstrom.com
$48.00
The #1 Basic  
Commando, hands down, makes the best simple cami. It's easy to layer under sheer tops without adding bulk, but FYI they only come in neutral colors. 
4-Pack Camisole
Amazon Essentials
amazon.com
$19.00
The Bulk Buy
For those who wear camisoles on the daily, do yourself a favor and buy them in bulk. 
The Racer Top
Cami NYC
shopbop.com
$148.00
Little Black Cami
When going out and dressing in doubt, the easiest outfit is a lace cami and black skinny jeans. My favorite comes from a brand that specializes in them, New York-based Cami NYC. 
Heart Embroidered Cami Top
Topshop
topshop.com
$6.00
That's So '90s
Seventh grade me would have loved this top, and [age redacted] me feels the same exact way. 
Slim Perfect Tank Top
Secret Support
This cami has a bra on the inside, but by the looks of it you'd never guess it. It doesn't look nearly as… sculptural as most built-in camis, making it way chicer.  
maddox blouse
Babaton
aritzia.com
$78.00
Wear It To Work
Tank tops are not always work-appropriate, but the ones from Aritzia are. Their crepe styles are so good they can be worn alone or with a blazer on top. 
Lace camisole
Saint Laurent
net-a-porter.com
$990.00
The Runway Edition
If your style looks strikingly similar to Paris Fashion Week, Saint Laurent has you covered. Kind of. For the fearless, wear it without a bra like they did on the runway. 
Chantilly Lace-Trimmed Camisole
Danielle Frankel
net-a-porter.com
$1,990.00
The Bridal Cami
For the non-traditional bride, this camisole is just as dramatic as a ball gown. Alternatively, wear it to your rehearsal dinner with flowing white trousers. 
Alicia Silk Zebra-Print Cami
Anine Bing
bloomingdales.com
$179.00
The Wild Card
As we mentioned, we love a lace camisole. Double down on the sultry vibe with an animal print and red leather pants. 
Airism Camisole
The Easy Breezy Cami 
Tight, stretchy camisoles can feel restrictive and sweaty. Uniqlo solved that issue with a super lightweight fabric that truly breathes so well even athletes wear them. 
Long Tank Top
The Longline 
If you prefer more coverage over your derriere, choose a longer camisole like this budget-buy from H&M. 
Grand Soleil Camisole
Kiki de Montparnasse
net-a-porter.com
$295.00
Boudoir Appeal  
We're not 100% sure whether this is considered lingerie, but it's so pretty we'd wear it out, too. 
Thinstincts Convertible Camisole
Spanx
nordstrom.com
$58.00
The Shapeshifter 
Spanx is a celebrity pick for red carpet appearances, so why not wear one on a Tuesday? Their surprisingly comfortable camisoles will flatter without restriction. 
Advertisement – Continue Reading Below