[dp_demo_ad_fullx90]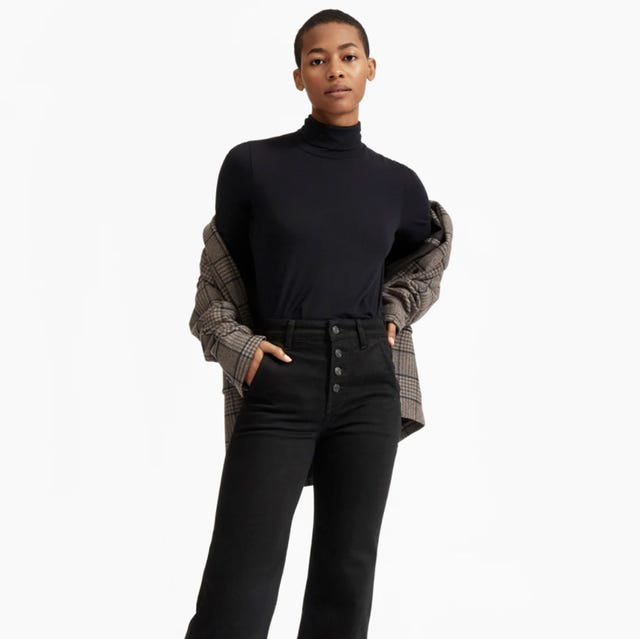 Everlane
If you've never shopped at Everlane, the "Choose What You Pay" program is exactly what it sounds like. Instead of having a traditional sale section, the direct-to-consumer company offers three prices and shares what each rate covers. The lowest price usually covers production costs, while proceeds from the highest rate will go towards research and development. Everlane just restocked the section, meaning you can take up to 50 percent off clothing and accessories at your discretion.
I know what you're thinking: Wearing—let alone buying—clothing right now seems daunting. (I should know, I'm currently rocking a college sweatsuit like it's 2010.) However, Everlane's sale is packed with cozy sweaters, loungewear, and Zoom-friendly blouses, so it's a great opportunity to revamp your WFH wardrobe. And if I'm being honest, we could all use some retail therapy right now.
Peruse through these 10 standout styles from the newly-stocked section, below.
Advertisement – Continue Reading Below
1
The Japanese GoWeave Short-Sleeve Jumpsuit
Everlane
$130
$52-$78
Made with a lightweight wrinkle-resistant fabric, Everlane's Japanese GoWeave jumpsuit is a happy medium between cozy sweats and, you know, real clothes.
2
The Japanese GoWeave Picnic Dress
Everlane
$100
$35 -$55
A cute sundress for under $50? That's a no-brainer. Throw it on and bring some summer vibes to your WFH setup.
3
The Oversized Alpaca Crew
Everlane
$95
$71-$81
Found: A ridiculously comfortable sweater that's polished enough for your next Zoom meeting. 
4
The Modern Loafer Mule
Everlane
$155
$93-$124
Psst…these mules can double as house shoes while indoors.
5
The Button-Fly Wide Leg Jean
Everlane
$78
$51-$71
Ready to graduate from sweatpants to jeans? Everlane has you covered. This wide-leg pair will look good with a simple T-shirt, blouse, or oversized sweater.
6
The ReNew Fleece Oversized Sweatshirt
Everlane
$55
$39-$50
This fleece sweater is a must-have for your next Netflix and chill session. It's basically a wearable blanket. 
7
The Trainer
Everlane
$98
$69-$89
There's a reason why white sneakers are a wardrobe staple. Whether you wear them to your virtual HIIT class or throw them on to grab the mail, they'll add a stylish edge to any outfit. 
8
The Pima Stretch Mid-Sleeve
Everlane
$30
$21-$27
Everlane's "Choose What You Pay" section offers a great opportunity to stock up on the basics, like this versatile fitted tee.
9
The Washable Silk Tie-Cuff Shirt
Everlane
$110
$72-$83
If you want to bring some style to your next video conference, this blouse—complete with sweet tie cuffs—is perfect. It's made with machine-washable silk, so you can avoid a costly dry cleaning bill.
10
The Tank Bra
Everlane
Since wearing a real bra is out of the question, opt for this sports bra. The tank style is supportive, but not constricting.  
Advertisement – Continue Reading Below