[dp_demo_ad_fullx90]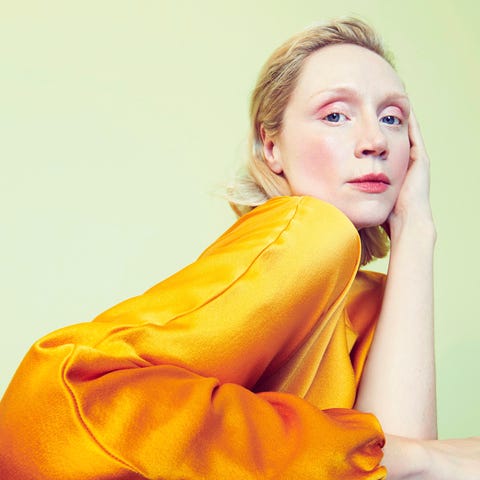 Gustavo Papaleo /Guardian /e​ye/Redux
The journey to this Gwendoline Christie interview starts where she does—in London. Woolmark has invited 12 designers to compete for their prestigious international fashion prize in the UK capital, and Christie is one of the judges. She meets with candidates like Brandon Maxwell and Angel Chen, reviews their designs, and hotly debates their fates with style pros like Alber Elbaz.
"My schedule was insane, but I made the time, because I've known about the Woolmark Prize for a long time. My partner, [designer] Giles [Deacon], my late friend Richard Nicoll… I know so many people who came from the Woolmark Prize. And I like that wool itself comes from nature; it's sustainable; it's environmentally friendly…Getting to judge the competition was a real delight. I mean, I know I'm an actor," she says—the reported 70+ million people watching her star turn on Game of Thrones know it too—"but I really love design."
If we had a narrator, this is where they'd boom: "She really does."
In the span of 25 minutes, Christie names die-hard fashion fixtures like educator Louise Wilson and activist Sinead Burke; she raves about Japanese dyeing techniques; she rhapsodizes about emerging artiste and Woolmark Prize winner Edward Crutchley with the passion of Kanye discussing Kanye.
"He made grunge-style tie-dye and put it on an American college jacket!" she exclaims. "He also took iconic forms of leather jacket and combined it with 18th-century frock coats. And he did it with wool! That kind of elevation in design is the mark of great designers. I felt like we'd found a new voice. For him, it's not about gender—it's about what's decorative and beautiful…it's really the essence of design."
If you're a fashion nerd, you should pore through Crutchley's latest collection immediately. If you're a drama geek, however, hang on, because Christie is just as keen to dish about her post-Thrones gig in A Midsummer Night's Dream. Directed by Nicholas Hytner, the production marks a Stark departure from Christie's warrior past and casts her as Titania, the mythic Queen of the Faeries. "But there's a twist," Christie reveals. "In this production, Titania speaks all of [King] Oberon's lines, and he speaks all of hers. She's in charge of the forest; she makes him fall in love with a donkey and make a fool of himself. It's a total power shift in the script."
Of course, there's another power shift hanging over all this—the one on Sunday night's episode of GoT where Christie's beloved Brienne of Tarth gets knighted by Jaime Lannister. It was the culmination of blood, sweat, tears, and one very grumpy bear. It also put considerable weight on Christie's shoulders, and not just emotionally. "Do you know what? It's so hard to move in Brienne's costume. Her armor weighs two stone," which is about 28 pounds. "You put it on for the first time, and you can't move," shares Christie. That makes Brienne's feats of fighting all the more formidable. "So as the character, you've got an obstacle to overcome just to move in your own clothing. I think that's a really interesting insight," she says of her character's journey. "It always starts in part with the costume, because clothing is really important. It's the language we choose to communicate how we feel about ourselves."
"I've always had a strong sense of how I like to present myself, and the dialogue I want to have with society through what I wear," Christie says. "I mean, obviously, I love aesthetics and design. I take it seriously. But Brienne allowed me to investigate my physicality—being a tall woman, being someone strong—in a way I hadn't felt comfortable doing before. Before her, I felt the constraints of society dictating women should look a certain way, including me."
The knight, whose priorities are honor and being battle-ready, really couldn't care less about what she looks like: "For me to strip away the conventional signs of femininity—no makeup, short hair, no skirts, no heels—it was fascinating and frightening. It was scary. I had to face up to who I was, and embrace that and make it work…But this part allowed me to do that. What I love about playing her is that she's the antithesis of a patriarchal society. She doesn't give into it; she's unashamedly herself. And I think her physical and moral strength is really part of the same thing. And the armor—well, it's empowering pushing against all that weight. But it's also so hard."
Not so hard: keeping GoT secrets about Brienne's fate. Listen, we tried. Christie is equally tight-lipped about her relationship with Kate Moss, who's both her friend and her modeling agent. (Really.) "I love Kate, she's fantastic, and she is my agent—how about that, huh?" Christie laughs. "But I'd much rather talk about the Woolmark Prize. Can I tell you something else about Edward Crutchley?" she asks earnestly.
Sure, I reply. Can we buy his clothes anywhere? (The answer is yes.) "I wish I was as passionate about that part," Christie sighs. "The practical side. But for me, it's just about how incredible the designs are. How the loom he was using had never made a piece of fabric as big as the one he created. All that innovation and art…I mean, what is life without beauty?"
Life without beauty? It's probably something like winter…and Christie's already been there, done that.